Peter Chortek Leadership Award

Do you know someone that demonstrates excellence in community service, leadership and philanthropy?
The Peter Chortek Leadership Award recognizes Jewish high school students in San Diego who are making a difference in our community by taking
tikkun olam to the next level through their innovative leadership and passion.
Chortek Award Links
Peter Chortek Leadership Award Flyer
Peter Chortek Leadership Award Videos
Peter Chortek Leadership Award Photos 2018
Learn more about Peter Chortek z"l.
Criteria for Award:
Applicants have organized and led an extraordinary tikkun olam project that has benefited others, their neighborhood, the community, the environment, or the world.
Applicants have demonstrated initiative, passion and positive spirit, and have inspired others to make a difference.
Applicants have created awareness about their issue, cause, or project.
Applicants have a long-term vision for the growth and sustainability of their work.
Applicants must currently be in high school, and have been involved with their project for at least one year prior to application.
Award Recipients Receive:
$5,400 Stipend
$540 to establish a Donor Advised Fund at the Jewish Community Foundation
Professional Video about your project
Competitive applicants for this award have dedicated significant time and intention to:
Creating a new project or program to improve his/her community, or;
Enhancing an existing project or program through innovation and community building, or;
Inspiring large numbers of their peers to get involved in service projects or social justice programs.
2018 Recipients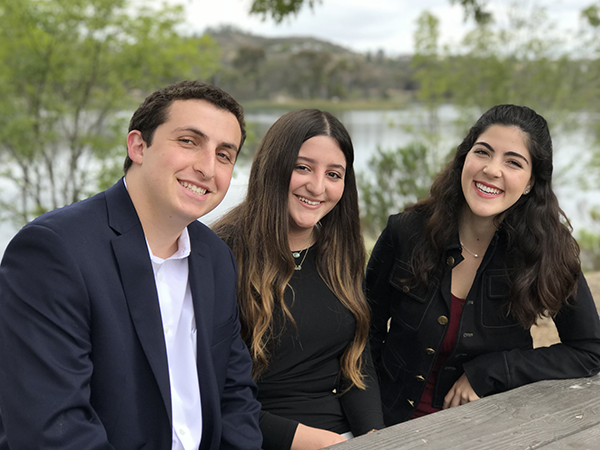 Max Mittleman, Chloe Dahan and Chloe Gubbay
Previous Recipients
Noa Eaton » Grade 12 – Canyon Crest Academy
Noa is the 2015 Peter Chortek Leadership Award recipient. She connected to her philanthropy in the 5th grade after participating in a Girl Scout house building project in Tijuana. Since then she has been committed to Tikkun Olam (repairing the world), literally one nail at a time.
Noa is a head intern at Casas de Luz and has been involved with the organization for over five years. Casas de Luz is a non-profit organization that raises funds and builds homes for families in need located in Tijuana. Noa participated and expanded the reach of the program starting as a bat mitzvah project and through her senior year in high school. She has helped over 130 students get involved, planned fundraisers and participated in builds. In addition, she has encouraged three others to fundraise for builds of their own for at-risk families and has created personal experiences for people, allowing them to become invested in this important cause.
Casas de Luz (CDL) focuses on three main programs through which they hope to help build sustainable communities in Tijuana. They started in 2005, building one home per year. In 2015 alone, CDL built eleven homes and delivered over 75 truckloads of donations.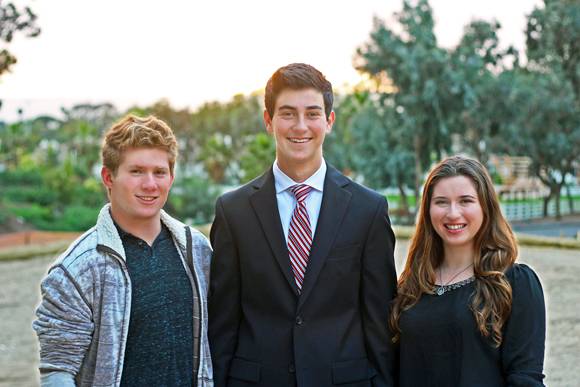 Noah Levinson, Joshua Kahn, Lily Greenberg Call
Noah Levinson » Grade 12 – Canyon Crest Academy
Noah has been a music entrepreneur since 7th grade, and is equally passionate about providing opportunities for disadvantaged youth in his community. Noah shares that while "we are told that today's youth are the leaders of tomorrow, how can teenagers experiencing homelessness, poverty, foster care, or abuse mature into compassionate, responsible adult leaders?" Noah developed Hallow, a teen night club experience that raises awareness and funds for nonprofit organizations serving disadvantaged youth. Noah has held two Hallow events around Halloween and has raised funds for StandUpForKids and Just In Time Foster Youth. He is planning a third event for spring 2015.
Joshua Kahn » Grade 11 – Pacific Ridge High School
Joshua's life was changed when he attended a three-week summer program in Chicago called Hands of Peace, a nonprofit that brings together Israeli, Palestinian, and American teenagers to discuss the Israeli–Palestinian conflict. Partnering with fellow student and co-leader Khalid Abudawas, Joshua spoke at local churches, mosques, synagogues, Rotary Clubs, and schools to secure $140,000 to start a San Diego program. In the past year, Joshua developed a cohort of 24 teens who are interested in pursuing a path to peace. Joshua said, "as a Jewish leader, I believe that it is my responsibility to create space to foster dialogue between people affected by this conflict, and in turn, a culture of understanding."
Lily Greenberg Call » Grade 12 -San Diego Jewish Academy
Lily was one of the founding members of Girls Give Back (GGB) at Jewish Family Service in 2010. GGB empowers the next generation of female leaders to positively influence the world around them. Lily's contribution was to develop a Girls Give Back Advocacy program, which directly trained 40 girls to impact their communities through advocacy. Civic engagement is a major family value in the Greenberg Call household. Lily explains that she was drawn to advocacy because, "it is not just a band-aid to cover and temporarily fix problems in society. Advocacy has the potential to make lasting change."
Watch all of the past Peter Chortek Leadership Award winners' videos below.
About the Peter Chortek Leadership Award
Peter Chortek z"l was not religious, but fiercely proud of being Jewish. He was committed to making a difference. His passion and focus was Jewish education, believing quality Jewish education would help insure a vibrant Jewish future. For Peter it meant being supportive of venues that would influence Jewish continuity. These include: day schools, Jewish camps, Hillel, Birthright, March of the Living, Jewish Community Centers and his synagogue.
The Peter Chortek Leadership Award was created to foster Jewish communal involvement by rewarding Jewish teens who are practicing tikkun olam, repairing the world.