Peter Chortek Leadership Award

Do you know someone that demonstrates excellence in community service, leadership and philanthropy?
The Peter Chortek Leadership Award recognizes Jewish high school students in San Diego who are making a difference in our community by taking
tikkun olam to the next level through their innovative leadership and passion.
Congratulations to the 2019 Recipients!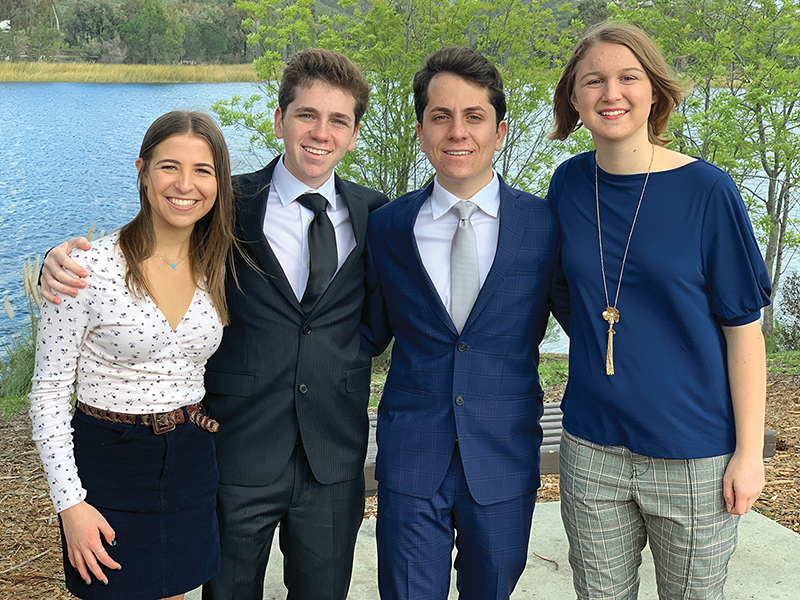 Talia Schauder, Ilan Matkovski, Max Matkovski, and Aurora de Tagyos
Ilan and Max Matkovski are Seniors at West Hills High School and are the Co-Founders and Co-Presidents of the West Hills High School Homeless and Hunger Awareness Club. These eager twins created this club from scratch as Freshman in a local Starbucks. It has grown beyond their wildest dreams. They now have over 40 active teens that attend weekly meetings during which they educate about San Diego's poverty epidemic and plan supply drives for those in need. Ilan and Max are firm believers in hard work — and want to really show others that with determination and passion, you can have a profound effect on those struggling around you. Watch Video
Talia Schauder is a Junior at Poway High school and has created Talia's Tolerance Tour. She developed this project as a result of her interest in sharing her grandfather's Holocaust survival story. Talia realized that there was a need to educate teenagers in middle and high schools about the Holocaust — teen to teen. Her project started as a presentation to a school that was having issues with anti-semitism and has grown to presentations to diverse audiences of teens and adults county-wide. Just two days ago Talia spoke to 1500 high school students at Rancho Bernardo High School. We are excited that Talia is a Junior and that we will have her local for one more year. Watch Video
Aurora de Tagyos is a Senior attending La Jolla High school. Her project addresses the issue of redirecting home-grown food waste to feed the food insecure. Backyard Bounty has been able to donate over 500 pounds of produce to the Hand Up Youth Food Pantry. Not only has Aurora made it her mission to educate the community about the issues both food insecurity and food waste pose to society, she has recruited donors and involved volunteers in the process. She is a remarkable young woman and we wish her the best with all her future endeavors. Watch Video
Chortek Award Links
Peter Chortek Leadership Award Flyer
Peter Chortek Leadership Award Videos
Peter Chortek Leadership Award Photos 2018
Learn more about Peter Chortek z"l.
Criteria for Award:
Applicants have organized and led an extraordinary tikkun olam project that has benefited others, their neighborhood, the community, the environment, or the world.
Applicants have demonstrated initiative, passion and positive spirit, and have inspired others to make a difference.
Applicants have created awareness about their issue, cause, or project.
Applicants have a long-term vision for the growth and sustainability of their work.
Applicants must currently be in high school, and have been involved with their project for at least one year prior to application.
Award Recipients Receive:
$5,400 Stipend
$540 to establish a Donor Advised Fund at the Jewish Community Foundation
Professional Video about your project
Competitive applicants for this award have dedicated significant time and intention to:
Creating a new project or program to improve his/her community, or;
Enhancing an existing project or program through innovation and community building, or;
Inspiring large numbers of their peers to get involved in service projects or social justice programs.
About the Peter Chortek Leadership Award
Peter Chortek z"l was not religious, but fiercely proud of being Jewish. He was committed to making a difference. His passion and focus was Jewish education, believing quality Jewish education would help insure a vibrant Jewish future. For Peter it meant being supportive of venues that would influence Jewish continuity. These include: day schools, Jewish camps, Hillel, Birthright, March of the Living, Jewish Community Centers and his synagogue.
The Peter Chortek Leadership Award was created to foster Jewish communal involvement by rewarding Jewish teens who are practicing tikkun olam, repairing the world.