Jewish Teen Foundation


The Jewish Community Foundation is excited to welcome the seventh cohort of the Jewish Teen Foundation (JTF) for the 2020-2021 school year. JTF attracts a diverse group of Jewish high school teens from San Diego County who are committed to making a difference in their community through tzedakah.
Last year, JTF participants awarded $22,000 to nonprofits that they selected in their two areas of focus: (1) Improving the lives of children with special needs and (2) Protecting and conserving the environment.
At JTF, we will cover: how to build consensus, how to write a Request for Proposal for nonprofits to seek funding, how to conduct a grant interview, how to conduct a site visit to a nonprofit, and more!
JTF is a progressive program with each meeting building upon the last. It is essential that all participants commit to attend every meeting.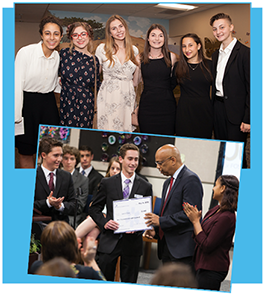 Our program will typically meet two Sundays per month at 4pm. Because of COVID-19, we are creating a fully flexible program that can meet 100% online or in-person. However, our tentative schedule (public health guidance permitting) is to alternate between one virtual meeting per month (1 hour on Zoom) and one
in-person meeting per month (two hours at the Jewish Community Foundation).
Our tentative schedule is available here.
Cost:
$360 per student (Financial aid available)
Fee includes: Kosher meals at all meetings, program support, supplies and $180 toward the JTF grantmaking pool.
Questions:
Email Sarah Vigon or call (858) 279-2740.
Click here for the current JTF recruitment flyer.