Murray Galinson z"l
Remembering and Honoring Murray Galinson z"l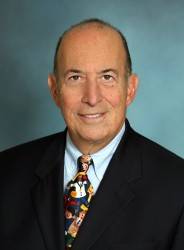 We join with the thousands of people locally, nationally and around the world who are mourning the untimely passing of our former board chair Murray Galinson. Murray chaired the Jewish Community Foundation board from 2008-2010. He was an example for us all of leadership without ego. His commitment to making a difference in the community and the world was unparalleled.
Murray was a visionary leader of the Jewish community in San Diego and worldwide, a successful business person, and an influential force in national, state and local politics. He was a gentleman who made time to mentor many young, up-and-coming leaders.
In his other leadership roles in the Jewish community, Murray chaired the board of Jewish Funder's Network and he served on the boards of the Leichtag Foundation, Jewish Federation of San Diego County, the Galinson Family Foundation of the Jewish Community Foundation, the Weingart Foundation and AIPAC. He also served in leadership positions with Price Legacy Corp., Price Charities and San Diego Grantmakers.
Starting in the 1960s, Murray served on numerous political campaign committees, both nationally and locally. He chaired the San Diego Advisory Board for Police Community Relations, the San Diego Citizens Review Board for Police Practices, UCSD Chancellors Associates and the San Diego Blue Ribbon Task Force on Violence. Murray chaired the board of trustees of the California State University System and was on the board of California Western School of Law.
If you wish to make a contribution in Murray's memory, the family requests that you give to the Murray Galinson Memorial Fund at the Jewish Community Foundation of San Diego. Recommendations for granting from the fund will be made by the family.
Murray's memory is for a blessing. May his family and our bereft community find comfort and know no more sorrow.
Read more about Murray in the articles listed below:
Murray Galinson, influential community leader
Union Tribune – January 3, 2013
San Diego lost a friend in Murray Galinson
Union Tribune – January 5, 2013
Nearly 1,000 Mourn Murray Galinson; President Hails La Jollan in Letter
La Jolla Patch – January 7, 2013