Jerome and Miriam Katzin z"l
June 2014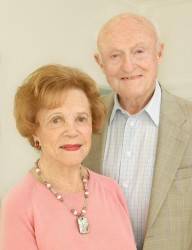 We join the Jewish and San Diego community in mourning the recent passing of Jerome S. and Miriam Eve Katzin, who died within days of each other, after 75 years of marriage.
Jerry and Miriam were humble, generous philanthropists who believed in endowments that would support the organizations they loved in perpetuity.   They named the Miriam and Jerome Katzin Presidential Chair at the Jewish Community Foundation in 2009, currently held by Marjory Kaplan, our President and CEO. This was the first endowed chair in the San Diego Jewish community. Through their donor advised fund, the Katzins supported a long list of Jewish community organizations including Jewish Family Service, Jewish Federation, Congregation Beth El, Hillel, Soille Hebrew Day School, Anti-Defamation League, Lawrence Family Jewish Community Center, Agency for Jewish Education, and the Friendship Circle. They established The Katzin Residence at Seacrest Village, with 26 units of Alzheimer's/memory support care.
Additionally, Jerry was affiliated with Jewish Theological Seminary for
more than 60 years, and the Katzins endowed its Louis Finkelstein Chair in
Talmudic Studies.
Jerry's calm, wise influence was felt when he chaired the board of the Jewish Community Foundation from 1988-1990 and when he served on many boards and committees in the city.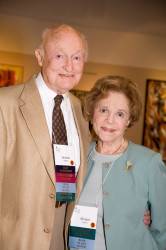 Of course, UC San Diego. They established the Judaic Studies program at UCSD, led in the creation of the Cancer Center and the Katzin Research Laboratories at the University Hospital and the establishment of the Rady School of Management at UCSD. They established a chair in Jewish Civilization and other faculty chairs and funds, including in 2012 the Katzin Prize Endowment Fund, which awards scholarships to qualified graduate students.
These are just a few of the many ways Jerry and Miriam greatly influenced our community. San Diego is fortunate to have had them as long-time residents since 1973.
They are survived by their children, David, Daniel and Diane, and by two grandchildren, Erica Katzin and Katrina Kurnit.
Contributions in their name may be made to The Seacrest Foundation Fund for Care at the Katzin Residence.