Book of Life Statements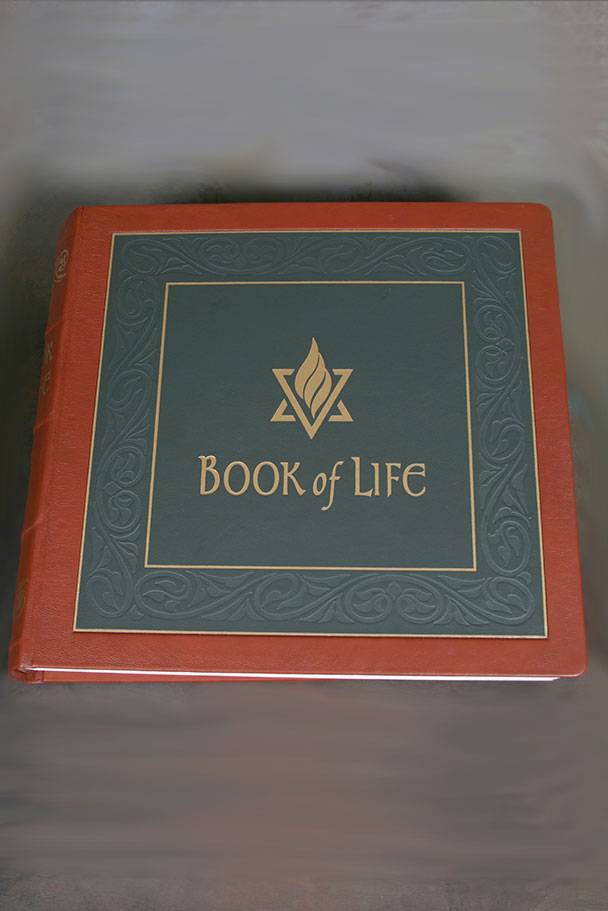 Judith Abeles and Beverly Miller
Our legacy is intended as a gift to the Jewish community in furtherance of the causes and institutions we believe will change the world for the better.

Steve and Shelly Abramson
Shelly and I both come from families that believe in the power, honor and responsibility of tzedakah and the federation's role in perpetuating that value. The power of working together, as reflected in the federation, enables all of us to achieve higher, common purposes, and together, we enrich more lives than any one of us can be working alone. The honor comes from knowing that, by performing acts of loving kindness as part of a community, we follow a tradition that has been part of our sacred trust as a people for thousands of years. And the sense of responsibility comes from the knowledge that fulfilling the obligation of performing acts of tzedakah through the federation uniquely contributes to making the circle of Jewish life complete, and sets an example for generations to come.

Phil and Irma Ames
We are grateful to our parents and grandparents for instilling in us a commitment to Judaism.
As founders and past presidents of a synagogue, we have learned that a temple is more than a place to gather, study, learn and worship. It instills in you the traditions and values of tzedaka and tikun olam.
It is our responsibility to set an example for our four plus children and their heirs.
L'dor v'dor.

Irving and Cecelia Appelbaum
The Community Foundation is truly a big asset to our Jewish community and we are happy to have had the opportunity to be a part of it.
We feel that our life has been greatly enhanced by living in this San Diego community, and we want to be a part of the Book of Life to support some of the institutions that have enriched our lives. Thus, upon our deaths, the balance of the Appelbaum Family Fund, will be distributed to enhance the Jewish community in which we are so proud to participate.

Susan and Perry Arenson
We have both grown up in families that have led by example. Our families have instilled upon us the importance of the future of Judaism and we have benefited from their legacy.
As our children grow up and have children of their own, we want to ensure that they, too, have continuity in the foundation of Jewish culture, Jewish history, and Jewish education. It is our hope that our legacy to them will create a stepping-stone for future generations to come. And perhaps our small footstep in our own community will continue the legacy that has been left to us, and will be passed on, Dor L'Dor, from generation to generation.

Joyce Axelrod
While making notes to myself just before I met with an attorney to establish my own trust a dozen years ago, I decided that I wanted to translate my Jewish caring into giving to this community beyond my own lifetime.
For most of my adult life, I actively worked for Jewish philanthropy while also making gifts to annual campaigns, agency needs and special appeals. But, it wasn't until I had to compose my own will did I truly realize that the future health of an organization lies in endowments that provide future generations the flexibility to respond to changing times.
Individual women who create such gifts do not have to be wealthy, they just need to step up to the plate when it comes to making decisions about their charitable giving beyond lifetime giving.
I would like my story to be an example for other women who will make similar financial decisions for themselves.

Diana Barliant and Nowell Wisch
We strive to continue supporting Jewish causes to carry on the legacy passed down from our parents and our family. We recognize the need to mentor our children and grandchildren on their responsibility to the Jewish community and support Jewish causes.
There is no greater good that one can render to the future than teaching our children by example on what it takes to be good citizens and Jews.


Renée Barnow
As a child of Holocaust survivors, I learned early on the importance of supporting Jewish organizations to ensure Judaism survives. My parents, who were both from Germany, went from riches to rags. Although they lived approximately 20 kilometers from each other in Bavaria, they only met in the United States, where they each started their lives over, my dad as a young man; my mom as a teenager. Again, they lived near each other, this time among other German Jewish refugees. They didn't know the language or other people. I know my mom's family received financial support from HIAS, which helped. Each of my parents rebuilt their lives centered on Jewish activities. Through those activities they met others who became their friends and they met each other. In their new country, they created a home filled with love and rich in Jewish observances.
I, too, started my life over, albeit under significantly different circumstances, when I moved across the country to San Diego 5 years ago. Plus, I knew the language and a few people. Never having been involved in Jewish organizations as an adult, I began exploring Jewish life approximately 1 year after moving here. In fact, I chose to live in a place from which I could walk to the JCC knowing that somehow my new life would be centered on Jewish activities. I began engaging in the Center for Jewish Culture (CJC) programs, where I was warmly welcomed. Almost 2 years ago I joined Congregation Beth Israel (CBI) after attending several of their programs. Again, I was warmly welcomed. Now I am involved in life at the JCC and CBI where both have become homes away from home.
Only recently did I become familiar with the Jewish Community Foundation. My soul is at home in San Diego and so too now is JCF home for making charitable donations and bequests. Before moving here my trust named several Jewish organizations as beneficiaries as a legacy honoring my parents' experiences. What a blessing to be able to honor my commitment to Judaism's survival and my sense of community in San Diego by adding CJC and CBI to those organizations receiving bequests through JCF.

Jacob and Leslie Bercovitz
Our family is very fortunate to belong to a very warm and caring Jewish community. Our Holy Day celebrations have become more meaningful when shared with some of the friends we've made over the years by participating actively in our Synagogue and Day School.
It is our hope that our Synagogue and community continue to grow and prosper serving the needs of other families like ours. Through our endowment gift we feel we are doing our part in continuing this legacy for our children and grandchildren. By contributing to their economic survival we can guarantee a place of worship, of continued Jewish education and Torah study as well as participation in activities that will bond the Jewish community for generations to come.


Edgar and Julie Berner
My maternal Grandparents came from a shtetl in Romania where Grandpa Leibowitz was a farmer. He left his pregnant wife, Lena, four other brothers and two sisters in 1911 to come to New York seeking freedom. After sending for Lena he proceeded to bring each family member over one by one.
My mother, Jessica, was the oldest of three sisters, all born in America. Grandpa Leibowitz set the benchmark for so many of my basic beliefs. A love of country, of service and respect for all peoples, a belief in the goodness of people and above all the importance of family and the handing down to future generations the moral, educational and family values as taught by Judaism.
Julie's Grandparents came from Hungary and Russia. Her Father Martin Friedenberg, a physician, was a true Patriarch whose gentle nature was loved by patients, friends and family. His wife Rose, his children Julie, Tess Tessler, Linda Bjork, and Andy Friedenberg remember him with loving thoughts.
It is our hope and prayer that our five children Jessica Friedman, Darryn Lowenstein, Mitchell Berner, Kevin Berner and Tracy Cohen teach their children tzedakah, personal and social responsibility, love of our country in spite of its faults, love of learning and education, love of family and friendships, and an understanding of all the beautiful wisdom contained in the teachings of Judaism.

Steven and Deanna Bernsen
When we moved to San Diego in 2004, we were instantly enveloped by Temple Adat Shalom. It's been our home away from home and provided a source of comfort and place of celebration for our family ever since. Our son began his Jewish education at Ganon Gil and progressed through Mosad Shalom and was confirmed at TAS. We believe it's vital to ensure a vibrant Temple Adat Shalom is available to all that seek a Jewish home well into the future. It is our honor to be part of the community leaving a legacy to support Temple Adat Shalom.

Terri Bignell
Years ago I was shown how each of us can have a positive impact on the worldwide Jewish community by our knowledge and involvement.
Today I am actively pursuing my commitment to strengthen the existence of specific Jewish organizations that I place great value on.
Looking forward, I am very proud and blessed to make my bequest to ensure that their future existence will continue long after my personal involvement.

Richard Braun
My passion for the Reform Jewish Community was following in the footsteps of my predecessors. In that light I have spent 23 years serving on the boards of trustees of three Reform Congregations: Emanuel Congregation in Chicago, Illinois; Temple Judea in Tarzana, California; and Temple Adat Shalom in San Diego, California, where I continue to serve as an octogenarian member of the Board of Trustees. Part of my purpose on this earth must be to serve the Jewish Community and to leave a loving legacy to my congregation.


Glen Brodowsky
I did not belong to a congregation between 1977, when I became Bar Mitzvah, until 2014, when I reached the age of 50. In the intervening 37 years, I often thought about joining a synagogue and finally, in middle age, the time seemed right. More importantly, I found the right place. Temple Solel was the right choice for me and my partner, who had been raised orthodox.
Over the past four years, Temple Solel has become a central part of my life. Like many people, being part of a community like Temple Solel assures me of a bright future for the Jewish people. In the spirit of L'dor vador, one of the things I love most is seeing the grandparents and great grandparents handing down the Torah to the parents who, in-turn, hand down the Torah to the B'nai Mitzvot. I feel a great connection to these generations who came before me. They remind me of long-gone grandparents and great aunts and uncles who were so much a part of my early life and whom I miss dearly and daily.
I have been blessed, through my relationship with my late partner, with generations of step-children, -grandchildren, and -great grandchildren. However, these are not Jewish children. How, then, can I do my part in L'Dor vador and pass on my Jewish legacy to the next generation?
I have included provisions in my will for a portion of my estate to be left to Temple Solel. In this way, I can do my part to ensure that we may continue to thrive as a Jewish people, and as a vibrant Jewish community in San Diego County for generations to come. L'dor vador.

Barbara Bry
My mother, Adelaide Bry, is my most important role model. After she got divorced in the 1960s, she went to work at a job where she was paid less than the men doing comparable work, and there was nothing she could do about it. Although she was busy raising my brother and me, she found the time to volunteer for the American Jewish Committee and other non-profit organizations. She encouraged me to get confirmed at Congregation Rodeph Shalom in Philadelphia. Because of my mom, I've devoted a large part of my life to empowering other women and paying tribute to my Jewish roots, and I am honored to have served as Chair of the San Diego Jewish Women's Foundation.
I feel that my life has exceeded my expectations. This is why my estate includes a gift to the Jewish Community Foundation and other Jewish organizations, as well as the establishment of a donor advised fund for my two daughters, Sarah and Rachel. It is my hope that the experience of helping our community will enrich their lives as much as it has mine.

Donald and Betty Byrnes
Both of our families brought the concept of tzedakah to our generation, and we have passed it on to our children and grandchildren at a very early age. Not until later did we both realize that tzedakah is a Jewish tradition and responsibility, not just the right thing to do.
The joy of giving to improve the quality of life for those less fortunate lights up our lives. We feel proud and fortunate to be able to leave a legacy to help continue the outstanding work of the San Diego Jewish community.

Peter and Elaine Chortek
Dor L' Dor was said often in our homes as we were encouraged to become educated and grow to be "menchen". We find ourselves using the same mantra with our children and grandchildren as we encourage them by word and example to commit themselves to the Jewish community.
We have found that involvement and giving not only helps others, but strengthens and enriches our family. By endowing continuing philanthropy, we can provide for both the future Jewish communities and the next generations of our family.

Susan Chortek Weisman
Endowing my Lion of Judah gift to the United Jewish Federation Women's Division will ensure that my tikkun olam continues and will serve as a role model for future generations.

Joseph Cohen
At the age of eighteen, in my first semester of college, I wrote to my parents about what I thought my life's path might be. My letter stated: 'I think it will have something to do with helping people'. When I discovered the letter in an old shoebox eighteen years later, I was able to look back and connect the dots to see that indeed my life's many activities embraced the theme of helping people in some manner. I was inspired by the self discernment of that moment.
The ability to give back and contribute – of time, talent, and financial capacity – is a motivating force for me. I am inspired to help others and understand their charitable capacity for doing good in the world. In the mode of living through giving we enhance our true happiness.
My legacy gift to JCF San Diego is in the belief that a vibrant community foundation will provide strong leadership for the larger Jewish community of San Diego – and elsewhere. Jewish Family Service and the Jewish Community Center are central to the quality of community life and are beneficiaries of legacy gifts.
I am grateful to live in a wonderful city, surrounded by inspiring examples of philanthropy, and desire to do ever more to secure the future of the Jewish Community.

Melvin and Betty Cohn
Betty and I have always felt that our family has a duty to share the fruits of our labor with those in need. We believe that this has been instilled in our children and grandchildren.
Recently we read the following quotation by Ralph Waldo Emerson:
"To leave the world a bit better, whether by a healthy child, a garden patch, or a redeemed social condition; to know that even one life has breathed easier because you have lived – this is to have succeeded."
May these principles be upheld by the loved ones who will follow in our path.


Eilene and Arthur Cummins
We have lived in San Diego for over four decades and we have seen the wonderful growth of the Jewish community here. We have made a legacy gift to the Soille San Diego Hebrew Day School to help ensure continued vibrant Jewish life in San Diego. We encourage everyone to make a similar commitment to the agency of his or her choice. Thank you to the Jewish Community Foundation for all that they do to guarantee the future financial well-being of our Jewish community.

Clive David
Forty-nine years ago I came to the USA from England. A zigzag route since then has resulted in planting my roots in San Diego. Attending the 2005 Congregation Beth Israel Yom Kippur service, I was treated to the presence of Rabbi Paul Citrin. I knew this was to be my House of Worship. Since then my spiritual life has become personal perfection, and meeting fellow members has created warm friendships. However, tomorrow is another day, and in the current mode of Middle East upheaval, it is imperative we look ahead to the Jewish future where we live. Hence, it is my pleasure and honor to designate an endowment for Congregation Beth Israel.

Donna and Larry Dawson
We made our decision – to donate all of our estate upon our deaths – to as many Ethiopian IDF soldiers as possible who can have some or all of their college expenses covered by our bequest. We made this decision certainly with L'Dor v'Dor uppermost in our minds because in 2013 we lost our beloved daughter Rachel Gabriele to leukemia at the age of 34. In her short life she was a high achiever, especially in her life as a working and award-winning artist. She had also worked very hard to help arrange for Ethiopian Jews to reach Eretz Israel which they did (via Operation Moses) by the thousands just a few days before her own Bat Mitzvah in 1991. We were all thrilled seeing imperiled Jews reach our Homeland. Rachel expressed great pride in her Jewishness, and believed as a good Jew, that education is perhaps the most important value adults can pass on to youngsters.
So, we made our decision fully cognizant that not only was this something Larry and I wanted to do but also that Rachel would, with great love in her heart, approve of our choice.
We are equally thrilled that the IDF had already established the IMPACT program through which we could direct our gift. We know from IDF that IMPACT can affect Ethiopians' entire families and that can include individuals being able to move up significantly in the IDF, a crucial way to become a successful and contributive Israeli citizen.
I grew up in a Conservative home and have always known the value of Tzedaka; Larry is now a fully welcomed MOT having completed his conversion recently. He had discussed converting with Rachel who happily agreed with his decision. So, we feel she has joined us in our efforts to sustain the Ethiopian community in their long-term contribution to Israeli society.

Mark and Jeanne Dillon
It is our privilege to participate in the San Diego Legacy program. We do this in honor of our parents who set and continue to provide exemplary role models as donors and active volunteers to the religious and secular communities in which we were raised. We are especially dedicated to Temple Adat Shalom, which has become part of our extended family since moving here in 1991. Our children benefited from Jewish programs that were available from elementary school through high school and helped to shape their Jewish identity and the importance of Tikkun Olam. We hope for these traditions to be continued l'dor v'dor, from generation to generation.

Hannah Cohen & Elliott Edelstein
Both of us grew up with close attachments to Judaism and the importance of Jewish values and tradition, Hannah in a small village on Long Island and Elliott in Philadelphia. For both families, the synagogue was the focal point of their Jewish education and social connections. Hannah's father was the founder of the Malverne Jewish Center and her parents inculcated in their children the concept of cultural philanthropy and helping to perpetuate the Jewish people. We have always been members of a synagogue, and since 1977, we have been members of Temple Adat Shalom, our spiritual, educational, and social home.
As parents and grandparents, we taught our children and grandchildren that philanthropy is an act of caring and cultivating, of developing and enhancing. We strive to be good role models for our family, and by becoming Legacy donors, we hope our children will in turn follow in our path and discover a new facet of their Jewish experience and identity. Through philanthropy, we wish for them to fulfill their philanthropic aspiration to make a difference.
Rabbi Elazar ben Azariah used to say, "If there is no sustenance, there is no Torah, but if there is not Torah, there can be no sustenance."
Jessica Effress
I had been giving a gift and volunteering at the Federation for several years before a UJC mission to the Former Soviet Union really opened my eyes to how crucial our gifts are to the survival of the Jewish people.
The gratitude we received from the beneficiaries of our donations was overwhelming. This experience solidified and justified my commitment of both time and money to the United Jewish Federation. Now I endow my gift to ensure that the support I give today will last in perpetuity, so that my children and their children can live in the vibrant Jewish community we have built. I am proud to help secure the future of Jewish life in San Diego and around the world.
Richard Effress
I learned about tzedakah early in life as both my parents were involved in the local Federation in Minneapolis. My parents' legacy is a foundation they created with the Federation as the supporting organization.
I want to leave my own legacy for several reasons. First, to allow the Jewish community to continue to benefit from a gift even after my lifetime. Second, to help ensure a vibrant future for the Jewish community that my children will be proud to be part of. And third, to set an example that in tzedakah dor l'dor.

Amy Corton, Carl, Emily and Cameron Eibl
As a family we have benefited from the legacies of others who have come before us. We belong to a beautiful synagogue and have enjoyed the many programs supported by Congregation Beth Israel and by other Jewish organizations. We are blessed with the opportunity to help support those who will follow us.

Mark and Cheryl Ellis
It is our pleasure and honor to leave a legacy to the San Diego Jewish community.

David and Claire Ellman
We are honored to fulfill our obligation of supporting the Jewish community through the mitzvah of "tzedakah".
Generations before us have passed on this tradition to us and by making this promise we hope to pass on the same legacy to our children. We are committed to ensuring the survival and growth of a vibrant, learned Jewish community in San Diego and through giving charity we can make a difference in achieving this goal.
Our children are our precious gifts. It is our responsibility to create and enhance every possible opportunity for them and their fellow Jews to live a rich life steeped in our Jewish heritage and teachings. With this knowledge they too can pass on to their children these attributes to ensure Jewish survival for the future. Thanks to the Jewish Community Foundation for giving us this opportunity.

Lynne Elson
For me, Jewish continuity is of utmost importance. The synagogue, with its focus on so many aspects of Jewish life, with outreach, education for both children and adults, opportunities to worship and celebrate holidays and life events, ways to volunteer and become involved in doing mitzvot – is the primary instrument for preserving our Jewish heritage.
That is why it is important to insure that Temple Adat Shalom remains a focal point in our future. A great way to do this is through a gift annuity. I gave some stock and received a tax credit for that year and have been receiving quarterly payments every year since then. The interest rate for those over age 60 is quite good.
So I benefit from my contribution, not only financially, but from knowing that I have helped to perpetuate our Jewish legacy.

Franklin Felber
The Hand Up Food Pantry of Jewish Family Service offers food and other essentials. I'm grateful to JFS for the privilege to help those in need through this vital service.

Walter and Pam Ferris
One of the most meaningful Jewish values that we place in high regard is the importance of tzedakah. As parents, we take tremendous pride in demonstrating this value to our two wonderful children, and hope they too will pass on this legacy to their children.
As members of our San Diego Jewish community, we are pleased to know that our support will benefit those who will come after us as we have benefited from those before us. If we don't carry on the Jewish values and traditions, the Jewish religion will fizzle out. Signing the Book of Life is one way to ensure this won't happen.
Esther Fischer
My family and I emigrated from Germany in 1938; saved from the tyranny of the Nazis. Little did we know that we had survived what proved to be the most catastrophic event of the 20th century -- the Holocaust. The blue tzedakah box always sat on our kitchen counter -- the lesson -- to always give back and never forget our Jewish heritage.
As a member of the San Diego Jewish Community, I have continued my commitment to its causes and to Israel. I am proud to know that this legacy will continue.

Merle Fischlowitz
I was born in St. Louis, Missouri, to parents who were both born in that city. Their parents came from Poland and Lithuania, in the late 19th century flood of Jews and people from all over Europe who came to the Golden Land of America. Now all six of my children and grandchildren have lives of freedom and security in this country.
I feel that my work as a teacher and therapist has served our people and our country. Although I have lived my life in freedom and peace, and served for two years as a soldier, I know that the security and freedom we all enjoy, as Jews and as Americans, must always be guarded and watched over, in order to be preserved for our children, and for generations to come.
Teresa Fischlowitz
I began my life as a child in war-ravaged Hungary, and now have the sweet luxury to live my golden years in freedom, security, and peace in San Diego.
In between came years of loss, imprisonment and exile, before my family and I were allowed to come to the United States.
As a musician and teacher I have tried to be a good American. I have never forgotten my roots as a Jew, fortunate enough to have been saved from the Holocaust. I wish for my sons, and their children yet to come, to always know of their good fortune to be Jews in America.

Tom and Judy Fisher
We feel an obligation to honor and preserve the legacy of Jewish values, including giving tzedakah and loving your neighbor as yourself, left to us by our parents, of blessed memory. By contributing to the Jewish community where we live, we want to preserve this legacy by teaching philanthropy to our children, so they in turn can teach it to their children.
To honor the memory of our parents, to further our support for the continuation and strengthening of Jewish life in this land, in Israel and throughout the world, and especially to set an example for our future generations, we created our fund at the Jewish Community Foundation and will continue to build our family's legacy.
Judy's father often quoted Hillel in Pirkei Avot, "If I am not for myself, who will be? If I am only for myself, what am I? If not now, when?" Creating our fund at the Jewish Community Foundation answers all of these questions by allowing us to create an ongoing legacy for our family.

Pauline Foster
Tzedakah has long been a tradition in my family. Starting with my father's father, who never turned anyone away when they came to his door asking for help. As a child growing up in San Diego, I can remember my Mother helping to resettle refugees from the war. I have always felt it a privilege to help others in need and to help build the Jewish community.
The Federation has been the training ground for leadership, which benefits the entire community, Jewish and non-Jewish. The empowerment of women was recognized early in its history and women have played a vital role in the growth and shaping of Jewish life.
Endowing my gift is my way of making sure these traditions continue, for my children and grandchildren and their children.

Elaine Galinson
I have received a strong message from my parents that after providing for our families' needs we must be concerned about the community's needs. I hope to pass this feeling on to my children and grandchildren, as well.
To provide for the critical needs in our Jewish community there is no better means than to support the United Jewish Federation since I know there will be a thoughtful, strategic and integrated approach to the multitude of valid demands for my charity dollars. I like that Federation is dedicated to the entire community and that one gift can touch so many lives.

Murray Galinson
The survival and growth of the Jewish community is of prime concern to me. Since I was a small child, I have learned that philanthropy is an integral part of Jewish life. A means to repay our community for all they have given our family is to endow our gifts to the United Jewish Federation so that they can continue to help those less fortunate for years to come.

July Galper
I come from a family that immigrated to Lima, Peru in 1939 from Romania, three months before the Second World War. My mother lost all her family in the Holocaust. I was born, raised and went to school in Lima. I grew up in a small community in which being Jewish and being identified as a Jew was as critical as my survival. At home and in the Jewish community, anything that had to do with Israel or Jewishness was embraced with "both arms."
I came to San Diego in 1966 for a job that was offered to my then husband.
I want to honor my parents for their love, dedication, tenderness and for providing me with such a strong sense of Jewish identity. They did not have much money but they contributed money to the "pushka" of Keren Kayemet. I never went to a Jewish Day School and for that reason I placed both my children at the Hebrew Day School in San Diego for five years. I saw the relationships they fostered, the discipline they acquired and the joy of their participation at Shabbat dinner on Friday night.
As I arranged my trust, one of the most important things I wanted to do was to leave funds to the Soille Hebrew Day School for scholarships to children that wanted to attend and have a solid Jewish and secular education whose parents could not afford the tuition. I feel my contribution can perpetuate Jewish education for future generations.

Jean and Franklin Gaylis
Whether you believe in the Jewish dictum: "Kol Yisrael Arevim Zeh la Zeh" or "Zeh ba Zeh", it remains that all Jews are responsible to or for each other. This is the lesson we learned growing up in our privileged, Jewish, South African community, and one we wish to pass on to our beloved children, Greg and Jackie, their future families, and the wonderful San Diego community who became our mishpochah too.
As descendents of Latvian and Lithuanian immigrants, we were taught the values of building and giving back to a cohesive community, supporting family, friends and those less fortunate than ourselves, commitment to Zionism and to Israel, ensuring a rich Jewish education, practicing principles of yiddishkeit, and honoring those survivors and brave Jews who paved the way for our strong Jewish identity and Jewish cultural continuity.
By signing this Book of Life, we hope to pass on this legacy of never forgetting our past, building the rich diversity that is South African/American Jewry today, and striving for a healthy, happy, prosperous, peaceful, future for all – Kol Yisrael.

Hymie and Rhoda Gaylis
History has taught us that we should never let our guard down lest anti-Semitism rear its ugly head. By being involved in philanthropy (tzedakah) and Torah study, our continued survival will be assured.
We are proud to be associated with Adat Yeshurun and its support for our future.
We are truly grateful for the opportunity to append our signatures to the Book of Life.

Jay and Lisa Gelbart
We can't put into words exactly why we give tzedakah, we just feel it's our responsibility to do so.


Rabbi Aaron z"l and Jeanne Gold
Aaron Gold, as a young "Yeshiva Bocher", came to New York with his family before the Holocaust. After years of religious and secular education, a few Orthodox, and then Conservative pulpits, he became Rabbi of Tifereth Israel Synagogue in 1974, where he helped build the congregation and become active in the Jewish community.
While he was not a Holocaust survivor, he not only paid tribute to the victims, but to the survivors as well, celebrating many joyous occasions with the 'New Life Club'. He was invited to join the Boards of UJF, Jewish Community Relations Council, and the Bureau of Jewish Education. He helped develop the 'Coalition for Jewish Youth' and establish the 'Community Jewish High School for Jewish Studies'. He initiated and led the effort to establish the SD Jewish Academy, where the first classrooms were at Tifereth Israel. Aaron was a great preacher and teacher, an institute-builder and a visionary. He was also a kind, gracious and gentle man.
We married in 1975, and together we established the Tifereth Israel Scholarship Fund to send teen and young adults on an annual Torah study program. We led over 1,000 Jewish couples at Marriage Encounter weekends, a program that taught enriched communication in families. We held meetings in our home to start a vibrant Chavurah program at Tifereth. We led 14 synagogue groups on exciting tours to Israel, which often resulted in our dialogue sermons from the pulpit.
All of our synagogue and Jewish community involvement has led me now to want to continue the legacy of Rabbi Gold, our legacy, with a financial commitment to Tifereth Israel Synagogue and other Jewish organizations in San Diego. After Aaron died in 2001, I realized that putting this commitment into my trust was the best way to support Jewish tradition and the San Diego Jewish community.
Now that is a legacy!

Morris and Phyllis Gold
Our tradition teaches in Ethics of Our Fathers, "Do not separate yourself from the community." Therefore, it is our responsibility to help provide for our Jewish community. We here in San Diego are so blessed that we can further the array of Jewish causes during our lifetime. Central to our Jewish connection is our synagogue, Congregation Beth El, through which learning and active participation takes place. It is fitting and appropriate for us to help provide for its future so that others can benefit from its continued role in the Jewish community.

Jerold, Linda and Matthew Goldberg
Judaism is not only our religion, it is also the glue that has helped to bind our family together and to link us to our past and to our future. And we believe that, while Judaism has been blessed with many institutions which give it vitality and life, the synagogue is the one place where Jews are not only found, but where they are made. Therefore, we can think of no better financial legacy to leave with our Jewish people than one which helps assure the future of our synagogue, Congregation Beth Israel.
Madeline Goldberg
Early in October 1931, my Grandfather and I were en route to San Antonio's railroad station. I was leaving Texas for the first time, age seventeen, to enter the freshman class of the University of Chicago.
My Grandfather was my legal guardian as well as a loving grandparent. He had last minute advice; "Use your time well, I'm certain that you know how fortunate you are." I kissed him good-bye and boarded my train.
I returned to San Antonio for holiday vacation. My quarterly exams were over, my grades were excellent. Granddad complimented me on my successful first quarter and then surprised me. "And what are you doing for others?" I explained the demands on my time to achieve those grades. "Can't you find an hour or two each week to help some not as fortunate as you? Never forget, my darling, with privilege comes responsibility."
From age 17 to 90 I have lived with his words. Returning to Chicago I learned that the Jewish Peoples' Institute needed leaders for after-school play groups to keep immigrant children off the streets. Every Friday afternoon I rode two busses from one side of Chicago to the other to lead a playgroup. I have the feeling that my grandfather sits on his cloud nine watching me and I like to think that he is thinking, "I think that she really listened to me."


Mel and Rory Goldberg
Our synagogue has been a strong influence on our family's religious beliefs and practices since we moved to San Diego from Los Angeles in 1963. Although Rory grew up in an active Jewish home, attending Sunday school and observing all the holidays, Mel's family was not affiliated with a congregation and they did not regularly observe the holidays. But belonging to Tifereth really helped make Judaism an important part of our family's life.
Mel served on the Board as treasurer for several years and Rory, in addition to being involved in a variety of Sisterhood activities including managing the gift shop as well as baking and cooking for Shabbat, also served as president of the Synagogue for two terms. During our 49 years of marriage, we have also celebrated many life cycle events at Tifereth, such as the births of our three daughters; their religious education including Bat Mitzvahs; the marriage of two of our daughters and the birth of three grandchildren.
Through our association with Tifereth, our family's connection to Judaism has continued to grow down through the generations. Our daughters' families both belong to Jewish congregations in their local cities and each of their children have become a Bar/Bat Mitzvah. Our grandchildren regularly volunteer their time helping at Sunday school and tutoring other children in Hebrew.
The importance of Judaism in our family has led us to the decision to leave a legacy to Tifereth Israel Synagogue. By making this commitment, we are contributing to the survival, growth and future of our Jewish community.

Roland and Myrice Goldberg
Our family immigrated to the United States from South Africa in 1994.
Congregation Adat Yeshurun was our introduction to Orthodoxy in San Diego and we are privileged to be a part of the Adat community. The Shul is very dear to us and all four of our children have had the fortunate opportunity of learning with Rabbi and Rebbetzin Wohlgelernter for their Bnei Mitzvot.
We are delighted to participate in the gift of a Jewish Legacy so that we can ensure continuity of the Shul in order for future generations to benefit likewise.

Herman and Jean Gordon
My bread is buttered on both sides. My immigrant parents gave me Jewish genes and Jewish values. Then Jean, the love of my life, instilled Tzedakah and caring in our five children.
Jean and I wish to share our blessings by helping preserve and further our Jewish peoplehood. We pray that it will be multiplied five times by our children and even more by generations that follow.
In tzedakah dor l'dor.

Judy Gumbiner
My decision to participate in the Book of Life gave me the opportunity to honor my late relatives including my husband Steve, and my parents, Harold and Sally. In addition, I also wish to acknowledge and honor my children Hilary, Michael, Scott and Ping, and grandchildren Sean, Noah and Ryan.
It has always been important to me to perpetuate Jewish life and Jewish values. Throughout my adult life I have actively volunteered in Jewish organizations including the San Diego Jewish Academy, Jewish Campus Centers (Hillel), and Jewish studies programs at San Diego State University and Tifereth Israel Synagogue. The purpose of these activities was to help build our Jewish community. Participation in the Book of Life is a way to acknowledge the importance of community involvement. I deeply appreciate the numerous blessings we all gain from our strong community.

Wayne and Naomi Harris
We know firsthand the benefits of a strong and vibrant Jewish community as we met each other many years ago at the La Jolla JCC. Soon after starting a family, it became clear that our participation in the San Diego Jewish community could make a real and lasting impact not just on us, our children and our community, but on our people as a whole. We have served on synagogue, Federation, and Hillel boards, traveled on missions, volunteered at preschool and Hebrew school, have led a capital campaign, and have hopefully helped put in place foundations for future generations of Jews in the community. We are all fortunate to have so many wonderful and dedicated local, national and international organizations supporting Jews of all ages and backgrounds, and we consider it an honor to have the opportunity to leave a legacy that will impact the Jewish people for generations to come.

Barbara, Graham and Amanda Haworth
Our family has always taught that it is each of our personal responsibility to care for and build our community, to take care of others, and to share the gifts of what we have with those who do not. Our legacy gift to the community insures that our values will live on and that the acts of kindness we value in life will continue after our deaths. Our gift is also made in memory of those who came before us and taught us what it means to be responsible for each other. Just as we name our children for those who had come before, we honor them once again with a legacy to what they instilled and passed on to us.

Marcia Hazan
In endowing my gift to the United Jewish Federation Women's Division I gratefully acknowledge my parents, Stanley and Pauline Foster, whose vision and generosity in establishing the Foster Family Foundation has enhanced my ability to fulfill the mitzvah of tzedakah in the San Diego Jewish community, Israel and around the world. By creating our family foundation they have provided an instrument to translate the values learned from their parents, and their parents before that into much needed support for religious, educational, cultural and social service agencies and institutions.
I hope to pass on to my children and the generations that follow a commitment to shared communal responsibility and the satisfaction that comes from collaborating with others for the common good. Philanthropy provides a meaningful avenue to help realize my ideal of being a worthy link in the unbroken chain of Jewish life, a connection forged from a long and momentous history, and passed on from Abraham to the present day.

Freda Heller
There are many ways to leave a legacy. One. A legacy of love. Two. A legacy of caring. And three. A legacy that will perpetuate the importance of being Jewish. Our Temple encompasses all three.

Chuck and Lisa Helsel
We are blessed with wonderful examples of how our parents have lived a life of contribution and making a difference.
We are grateful to have the opportunity to continue this trait ourselves and witness our daughters doing the same.
We look forward to continued contribution to the Jewish Community.
"When a person leaves this world, he is accompanied not by silver, gold, or jewels, but by Torah and good deeds." - Pirkei Avot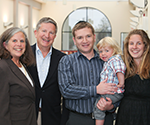 Harriet and Norm Herman
We are grateful to our parents and grandparents for instilling in us a commitment to Judaism.
Tzedakah has been an important and integral part of our family values for as long as we can remember. The importance of passing on our traditions and heritage to the next generation was modeled through our grandparents, parents, and now our commitment to our children. Our families emphasized the importance of being Jewish, and continuing to pass on our traditions and heritage to future generations.
As young children in Bergen County, New Jersey, we remember experiencing prejudice and unkind remarks from neighbors and classmates because we were Jewish. As we reached our teen years, the climate of acceptance and respect had greatly improved, as the Jewish population in the area increased.
When we were married, as it says in the Shema, we made a commitment to honor each other while passing down Jewish traditions to our children. As career opportunities brought our family to different regions of the country, both of our children
attended Hebrew School, were Bar/Bat Mitzvah, and continued their formal education through Hebrew High School. We celebrated holidays with the traditions, which were important to us from our own childhoods.
We relocated to San Diego in 2003, and were fortunate that our daughter decided to move to San Diego in 2007, where she met and married her wonderful husband. We now have a new generation in our family to share the joys, traditions, and heritage of the Jewish people. Our grandson, although not quite two years old, already demonstrates his love of Shabbat and the holidays as he sings (in the tone of candle lighting prayers) whenever he passes by any lit candles, and (in the tone of Hamotzei) when we cut any type of bread. He enjoys going to Shabbat services, and is enjoying the food, songs, and traditions of each holiday as we celebrate together. We look forward to having him share his knowledge with his, soon to join the family, new brother or sister. Our son and his wife, who are traveling abroad, hold strong commitments and live the values, which are so much a part of our Jewish culture.
We are fortunate that we can share and pass down our traditions and experiences personally with our family. Through our Legacy Gift, we are proud to give the opportunity to others to continue to share the rich traditions, which are important to all of us as Jewish people.

Sue and Jerry Hermes
We no longer have immediate family in San Diego County. So, our friends and fellow congregants became our de facto San Diego family. Tifereth Israel Synagogue has nicely filled that gap for us for almost forty years. We both feel very strongly that Tifereth Israel very much needs to be around, long after we're both gone, to do the same for others who now have, and for those who might, in the future, have similar circumstances.
The best and most certain way to see that Tifereth Israel is financially sustained in the future, is through the Endowment Fund. Having risen through the leadership to be President for three years, I really, and very deeply, learned the importance and value of a robust Endowment for the synagogue. It most certainly is the gift that keeps on giving and giving and giving.
We don't know what the two of us would do, or where we would be, without Tifereth Israel being a major part of our lives these four decades.
Therefore, it is our great honor to be part of the shul's Chevrat Bonim program, helping to ensure that Tifereth Israel will be around, well into the future, to benefit the San Diego Jewish community.

William and Diane Hillman
Temple Adat Shalom is our Jewish family. We are leaving a legacy gift to TAS so that the synagogue can be the family for others in future generations as well, and we want our children to know how important it is to us.
We will never forget what our people sacrificed and went through to be Jewish – and how vital it is for us to stay united as a Jewish people.

Deborah Horwitz
Volunteering and community support has always been part of my life. Beginning with my childhood in Evanston, Illinois, I remember how my parents took an early and active role in our public schools, Girl Scouts, United Way, school board caucuses, Women's American ORT, and much more. As a young adult I continued as a volunteer in that community.
My husband and I have continued this commitment throughout our married life in San Diego, and we are proud that our sons consider tikkun olam an important part of their lives, too. Our older son is just completing his second year as a volunteer with AmeriCorps*NCCC, having served in many projects, such as helping senior citizens and students in public housing in Queens, NY; fighting wildfires in Montana; delivering food and supplies to victims of Hurricane Isabel. Our younger son, an Eagle Scout, has volunteered in San Diego and Chicago for numerous projects, and years ago, he even donated a portion of his Bar Mitzvah gift money to helping the Jewish community of Argentina rebuild after the terrible bombing there.
Thus, my decision to include the Jewish community as part of my estate planning was not based about any concern about my children's values. I trust their instincts and our tradition of philanthropy. Rather, I felt compelled to make a legacy gift to the American Jewish Committee because this one organization best represents the confluence of my identity as a woman, as a Jew, and as an American. I strongly support its mission and its prodigious accomplishments of strengthening democracy and pluralism so that we as Jews, and indeed, so that all people, can flourish. AJC's work underlies and makes possible the very existence of all the other organizations and projects that I value – public education, justice and civil rights, Jewish continuity, the State of Israel – and I therefore wanted to ensure its future.

Karl and Audrey Jacobs
Torah is a precious gift. Audrey and I are indebted to the Soille Hebrew Day School for all it has done to preserve and transmit Jewish learning to generations of students and their families.
It is a joy for us to fulfill the mitzvah of tzedakah and benefit future students and families of Soille Hebrew Day School.

Howard Jacoby
My lifelong passion is to increase the vitality of the Jewish people because of their beneficial influence on the world. This influence is remarkable comparing its extent to the small number of Jews. As a member of the JCC Legacy Society I much appreciate the JCC's role of connecting to secular Jews who are a critical addition to the Jewish population.
James and Carla Jacoby
When my ancestors arrived at Ellis Island from Russia and Romania, at the turn of the 20th Century, they brought with them more than a few tangible belongings, they brought their heritage from preceding generations to share with those in the generations to come. As a recipient of that rich heritage, I am grateful to have the opportunity to provide a legacy that would honor the memory of those that have preceded me in life. In addition to passing our faith, history and culture to our son, I now have the privilege of bestowing that gift to those that follow me in life. Through the United Jewish Federation (UJF), I am able to preserve the Jewish heritage and the faith in Judaism that has endured for centuries and will continue to thrive for generations to come.

Edward and Linda Janon
We have been fortunate enough to be able to share and continue our Jewish values with our community.
Jewish Family Service is our favorite agency because it makes such a difference in the lives of those "less fortunate," or in a real crisis.
We leave a legacy so that our community can continue caring for one another.

Chris and Emily Jennewein
Congregation Beth Israel has been such an important part of our family's lives that we are pleased to be able to make a lasting gift toward the synagogue's future. The ease and comfort that our children feel at Beth Israel – and the strength of their Jewish identities – are our greatest rewards as parents. We are honored to be able to help ensure the future of our synagogue so it will be able to play this critical role in the lives of other families.

Myron and Laura Jucha
L'Dor v Dor. From generation to generation. If we want to ensure that the San Diego Jewish community continues to grow and thrive, it is important that we take steps now to guarantee its future for our children and future generations. We hope that by being active members in our temple, we are setting a good example for our children to follow. We hope that by teaching our children about the importance of a Jewish education, tzedakah and tikkun olam, they will grow up and continue to hold these values close to their hearts. We are proud to leave a lasting legacy to our temple by our many volunteer hours, the donation of a new classroom as well as our endowment gift. These will all be a constant reminder to our children and grandchildren about how important Temple life is to us and how important it was for us to leave a lasting legacy at Temple Solel.

Marilyn and Leopoldo Kahn
During our life in Peru and coming to the US, the synagogue has been central to our life. We had a sense of belonging and being part of the tradition chain that connected us with our ancestors, who lived and grew in Europe.
We want our children and grandchildren to know the importance of their Jewish identity and their connection to the Synagogue life and worship. We decided to express this by leaving a legacy to the Synagogues that meant so much in our lives.

Marjory Kaplan
My endowment for the Jewish people reflects the joy and energy I find throughout our community. As the executive director of the Jewish Community Foundation for the past eight years, I feel blessed to have witnessed so many heart-filled conversations about giving back to the community. Meeting with people of all ages and backgrounds, I understand how the strength of our Jewish values compels us to the obligation of tzedakah and leaving the world a better place.
For my family, I am signing the Book of Life to honor my parents, Rita and Myron Joshel, who showed me through their actions what it means to be generous and active in a community.
For future generations, I want to help pass on the powerful values that this book represents.
May we all be blessed by the light and joy of our traditions.

Mavis Kaplan
I was born in London, England to an Orthodox family, and my father manufactured Kosher wines, so we were quite well known. The men went to shul every Friday night, and my family went to shul together every Saturday morning. I sat upstairs with my mother, while my father and my husband sat downstairs with the other men.
My husband and I were married in February of 1946, and we moved to the United States later that year. We traveled a lot as my husband was with the United States Diplomatic Corp. We lived in London for four years, Munich, Germany for four years, and Geneva, Switzerland for two years. We always belonged to a shul and had my son take Hebrew lessons. When we finally returned to the United States we lived in Florida, where my son became a bar mitzvah.
I made this Legacy to honor my parents and thank them for the good Jewish life they instilled in me. I hope that Temple Adat Shalom will continue to grow, and that the young people will learn the importance of their shul.

Robert and Jodie Kaplan
When my husband Bob encouraged me to join him on the San Diego Community Mission to Israel in November of 1995, my life was changed forever. It was my first trip to Israel, and I realized on that trip why the work I was doing in the San Diego community was so important. While in Israel, we also understood that it is equally important to support our "family" there as well.
By leaving this legacy, Bob and I have inspired our children to follow in our footsteps of tikkun olam. Our son, Lawrence, participated in the second year of the Community Youth Foundation, and our daughter, Leora consistently looks for opportunities to help people. We hope that our children will pass on to their children the love, commitment and passion for giving that we have inspired in them, dor l'dor.

Stuart Karasik
Growing up as a child in the vibrant Jewish community of New York City, with the loving, strong faith-based, positive influence of a Jewish family, culture, philosophy, traditions and beliefs, was one of the most critical influences in my life. I cannot think of any part of my life that has not been touched or influenced by the wonderful "neshomah."
I am so grateful that my grandparents, parents and entire extended family worked tirelessly to see that my sister and I were exposed to all the joyous and fulfilling experiences that a Jewish home and synagogue community can provide. Those warm memories remain with me today.
Moving to San Diego in the 1970s was a bit of culture shock to my family. The Jewish community was so much smaller than we were used to. By joining Tifereth Israel Synagogue, though, we were able to replicate some of that great feeling of Jewish continuity and belonging.
To quote Pirkei Avot, Chapter 6, Number 9, "I would not live anywhere, except where there is Torah." Leaving a legacy to Tifereth Israel Synagogue and the Jewish community of San Diego allows me to play a part in seeing that the blessings I have received will be able to be passed on to the generations to come. Compared to what my family and I have received, this small measure is something I can do to say "Todah Rabah."

Barry and Avra Kassar
We leave a bequest to the Agency for Jewish Education because of a sincere belief that Jewish education is critical to the future of San Diego's Jewish community.
Following the example and values of our beloved parents and grandparents, of blessed memory, we have devoted much of our energy to our Jewish community wherever we have lived. Being involved has given us a true sense of fulfillment, and we have by example also instilled in our children the importance of Tzedakah that we are confident they will pass on to the next generation.
We are leaving a legacy to the Agency for Jewish Education in the hope that it will enrich and strengthen this community's commitment to Jewish education for years to come.

Roxanne and Norm Katz
We met at a Jewish Singles event in San Diego sponsored by Federation in 1985. So began our journey through marriage, raising our daughters in a traditional Jewish home, being involved in leadership at Tifereth Israel Synagogue, and supporting our local Holocaust survivors as well as other Jewish organizations.
Had it not been for the Federation's programming for young Jewish singles back in 1985, we may not have ever met, so it was indeed beshert. We are honored to make a legacy financial gift to ensure that the San Diego Jewish Community continues to thrive. We are signing this Book of Life to seal our commitment to our community and to continue the traditions our parents have instilled in us.

Jeanie and Hillel Katzeff
We want to encourage Jews living in the diaspora to strengthen their connection with Israel.
Hillel's parents, Ada Katzeff z"l and Oscar Katzeff z"l, embodied this connection. They were born in Lithuania when the idea of a State of Israel was only a dream. Their families settled in South Africa prior to the Holocaust when they were children. It was always their dream to make Aliya and be buried in the land of Israel, which they fulfilled.


David Koplar and Karine Seigel
For me, one of the real pleasures in life is being Jewish and giving back; and having a husband that is loving and generous is another.
Having not endured the horror of being in a camp, I still feel like a survivor. At the end of 1942 my 7 months pregnant mother left Gdansk (Danzig) on a freighter to Sweden. I was born on the lower deck in the middle of the Baltic Sea. We lived in Sweden until 1947 with a lovely Swedish family. My first language was Swedish. My mother had learned that her sister and brother perished in camps and that her husband was never found. However, she did find her childhood friend who helped her escape with the Jewish Underground, now living in Germany.
After many years living in L.A. and retiring, I moved to San Diego where I met my loving husband David Koplar and got married after 20 years of being a widow. We met on "Our Time" a dating site. I was now looking for something meaningful.
The wonderful Kelli at "Seacrest At Home" contacted and hired me. I was thrilled and thankful!!! The comfort of taking care of "my people" and anyone in need of care and love gave me the greatest joy. I always felt that I was the one on the receiving end. "Seacrest and "Seacrest At Home" is such a special place and treats everyone equally with gentleness, kindness and most of all respect.
It made me proud to be part of this beautiful organization and be a caregiver with love and compassion to wonderful human beings, some sadly gone, some still around. This "love service" has enriched my life and hopefully others.

Theresa Dupuis and Gary Kornfeld
We feel so fortunate to be a part of San Diego's Jewish family. We are grateful for the foresight and generosity of those who have gone before us, and whose efforts have sustained our community. By leaving a legacy gift, it is our hope that, in some small way, we will be providing the same for those that follow us.


Seth Krosner
The tradition of Tikkun Olam, the repair of the world, is among Judaism's greatest gifts to humanity. My life has been shaped by a culture dedicated to healing the sick, protecting the weak, and providing for the needy. But our tradition teaches us that the work of Tikkun Olam may never be finished. Certainly one life span, however long, is in the end not a very long time. We can hope, however, to leave the world a little bit better than we found it.
My work as a trauma surgeon has taught me that one is never too young to have a will. As I prepared mine, I thought carefully about providing for those I love. I also thought carefully about providing for the world they would inherit. Would that world provide the same resources and opportunities that I enjoyed? The institutions that had made my life more meaningful – the schools, synagogues, and charities – would they be there for my loved ones and for future generations? Would there even be future generations of Jews in a hundred, or five hundred, or a thousand years without secure Jewish institutions tomorrow, and the next day, and the day after that?
I will not be there to ensure the strength of the synagogues, community centers, and agencies that will serve the Jewish world in five hundred years. What I can do, and will do through my planned gifts, is help to make sure that the Jews of the next generation will have the tools to create a vibrant Jewish life for their great-grandchildren, who will in turn become the great-grandchildren of that distant generation. We live as Jews today because our ancestors taught their children to see into the future and care about the world their great-grandchildren's great-grandchildren would inherit. Since I have no children of my own, I see the gifts I have arranged in my will as my stake in our shared future. They will be my next generation.

Murray and Flora Kuritsky
Both of us were raised in predominately Jewish neighborhoods of meager financial means in the City of New York. With little more that was necessary to sustain their families, our parents considered charity as a necessary requirement of their lives. We can remember our parents wrapping two pennies in paper to give to a poor individual.
Our families came from committed Jewish ancestors of Eastern Europe, where the "shtetles" of the countryside provided a somewhat safe haven for the practice of their Jewish customs and beliefs. In the relative affluence of our lives in Southern California we tend to live more as individuals, tending to lose the integration that was previously provided by the shtetle. Whereas our new way of life provides a host of benefits, a more integrated Jewish community offers greater strategic and political strength. It is in this way that we see the value of the Jewish Community Organizations; providing the multiplying advantage of the individual Jew.
Fortunately, our great country has been very good to us, and we consider it incumbent on us to give back to the Community to help those less fortunate, and to smooth the way for those coming after us.

Fanny Krasner Lebovits
Since I was very young, I learned the meaning of the word tzedakah. I continued with it through my entire life.
In my profession as a nurse, I have been dedicated to treat the sick, weak and provide for the needy. After surviving World War II, I continued to embrace the Jewish people and help ease their absorption into normal life.
I have found that, of all the world's people, Jews are the most experienced with challenges, from their time of Moses until today. Judaism has always been a difficult faith, but those who kept the faith have learned that the faith keeps them. Despite the personal turbulence we encounter, if we have faith and tradition, we will be safe.
Before I arrived in the USA 31 years ago, I lived in several countries. Whether located in Stockholm, Johannesburg or San Diego, the heart of the Jews beats as one. The rest of the world identifies us as one people, and indeed we are. In good times and in bad times, we are one. Throughout our entire lives, Judaism nurtures us, sustains us, and defines us.
I have been blessed with a beautiful family of three children, a stepson, grandchildren and great-grandchildren. I am proud to see that my children have continued in their parents' path and are involved in the Jewish community. They know that Jews thrive and flourish when they have a sense of belonging.
L'dor v'dor My heritage, the safety of the state of Israel and the survival of my people are of prime importance to me. My legacy is to help further all of the above.

Lainie Lesser-Mark
Generations before us have passed on our Jewish heritage and teachings and we are expected to continue this sacred and meaningful legacy for our children and all of humanity. It is my deep appreciation for being a Jew that has prompted me to support our heritage.

Jerome and Leona Levy
Throughout its long and distinguished history, our synagogue has served as a gathering place, a place to worship, to be inspired, to seek answers through study and to commit to a just and better world. We have inherited the spiritual and social foundations created by preceding generations. Our legacy, indeed our responsibility, is to take what we know and pass it on to our children and grandchildren. Our philanthropy will serve as an enduring fount to support these endeavors.

Nathan and Celia Levy
Prior to immigrating from South Africa in 1981, we were very involved in Jewish Communal Affairs and have continued to do so since our arrival in San Diego.
The Shul and Schools have always been very close to our hearts as we feel, deeply, that this involvement not only provides a platform and a principle for our family, but also may assist those less fortunate than ourselves.
It sets a pattern and an example for life which we hope will be able to be replicated by our children, grandchildren and future generations, ensuring the survival of our Jewish Culture.
The Jewish Community Foundation is an inspiring vehicle with which to further these ideals of Tzedakah, Gimelut Chasadim, and Service to Others.

Yiftach Levy & Jennifer Tabak-Levy
The San Diego Jewish Community infused our lives individually as young adults when we attended college and grad school at SDSU. Hillel at SDSU was our home away from home during the years when we needed it the most. After college, synagogue was another place that gave us each a Jewish space to be in, and because of that connection we were introduced by clergy and began our story together, creating a family that is enriched by the many Jewish offerings in San Diego. Our children thrive at summer camp and through theater experiences at the JCC. They have attended Jewish day school and enjoyed being part of a unique blend of all aspects of the Jewish Community. The San Diego Jewish Community is the backbone of all our relationships and connections. We are proud and honored to commit to supporting it throughout our lives and beyond.
Teddie Lewis Pincus
My family has been involved in philanthropy since we arrived in San Diego in 1944. My mother was one of those responsible for founding the Hebrew Home.
My former husband was one of those who set up the original Community Foundation of UJF. And Sivia Mann and I helped to get the San Diego Community Foundation started.
I also chaired a group under the auspices of the Foundation called "Women and Money," which taught women how to handle financial matters. It was most successful.
We are delighted with how far we have come and hope our children and the entire Jewish community will continue the good work, both for the Jewish community and the San Diego community at large.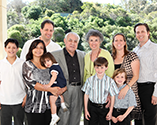 Morris and Zita Liebermensch
On behalf of our family, we are most grateful for the opportunity to perpetuate the Jewish tradition of "tzedakah" with our legacy gift.
We especially want to remember and honor all those who came before us; give love and support to all those in the here and now; and be ever mindful to secure a safe and caring future to all those who are to follow.

Marshall, Gail and Rebecca Littman
This beautiful Midrash story about the guarantors of Torah illustrates why we have committed to sign the Book of Life.
Moses told the Israelites that G-d wanted to give them the gift of Torah and then proceeded to ascend Mount Sinai to accept the offering. However, Moses returned from the mountain empty-handed, explaining to the Israelites that G-d wanted a guarantee that they wouldn't only accept the gift but would live consistently by its teachings. Moses made two more trips up the mountain, one with jewels and the other with valuable possessions, but G-d still wasn't pleased.
However after much spirited discussion, a mother cried out that our children, our most precious possessions, should be our guarantors. At that moment, G-d realized that the Israelites were truly worthy of receiving Torah. Moses happily returned carrying two large stone tablets that shone with the words of G-d. Since that time, the children of Israel have listened to the words of Torah and taught them to their sons and daughters, there by passing the light from one generation to another.
As in the Midrash story, to help assure that our children will continue in their role as guarantors of Torah, we commit to doing our part by supporting our Jewish community through the giving of tzedakah during our lifetime and after we are gone. We feel responsible to help preserve and secure our Jewish heritage, as well as to model this for our daughter, Rebecca. We are confident that she, in turn, will serve as a role model for her children in the years to come.
Just as the Israelites made the commitment to teach the words of the Torah to their precious children, by signing the Book of Life, we hope to do our part to assure the passing of Torah from one generation to another.

Frances Lobman
My mother, Jean Larisch Weingarten, immigrated to the United States from Brzesko, Poland with her family after a number of pogroms in her village. My father, William Weingarten, was born in Lemberg, Austria (Lwow, Poland) and escaped from Vienna in 1938 after Hitler's arrival. My mother arrived in the United States in 1933 and my father in September 1939. My parents met in New York in 1941.
My father was forced to leave the University of Vienna medical school in 1938, when Hitler decreed that Jews could no longer attend. A year later, as a refugee with no prior knowledge of English, my father arrived in America and worked at menial jobs while learning English and studying to complete his medical training. Education was a top priority for him. Despite many hardships, my father earned his medical degree with a specialty in cardiology. As soon as he had passed his specialty Boards, he joined the United States Public Health Service, where he served as a medical officer from 1942 until opening his private practice in 1955.
This dedication to learning and determination to continue his education at all costs was my father's legacy to me. Both of my parents had to flee persecution because they were Jews. This Jewish identity, along with the strong desire to preserve our culture and traditions, was another legacy.
L'dor v'dor, from generation to generation, it is vital that we transmit our traditional love of learning as well as our rich values and history to our children and to our children's children. We must support our Jewish community in a tangible way. Through my legacy gifts to The Agency for Jewish Education and to Congregation Adat Yeshurun, I hope to play a small part in achieving that goal.

Hamilton and Estelle Loeb
We were raised in Illinois with Jewish values handed down to us by loving, caring parents and grandparents, and by their example of tzedakah. Supporting both the Jewish and general communities have been a part of our lives since early adulthood. Every day we feel blessed to live in America; giving is the rent we pay for that privilege.
Since we moved to San Diego twelve years ago we have become actively involved in Jewish Family Service. We have seen that agency quadruple in service to the community in that remarkably short time. We feel fortunate to live in a vibrant Jewish community where our values will be handed down to future generations through the strong institutions the community has built. We want to help ensure the future of those institutions through our modest endowment and legacies. We appreciate the work of the Jewish Community Foundation that will guarantee the future of the Jewish community in San Diego.

Craig, Marty and Max Lotzof
Every generation has an obligation to ensure the next. The Adat Yeshurun Chai Legacy Circle was a clear choice for our family.

Nina Madden Sabban
My sister Vicki and I grew up in a Canadian community with about 300 Jewish families. We were often the only Jewish students in our class. But we were taught by our parents to be proud of being Jewish and to give to those less fortunate. My late husband Joe grew up in Tunisia and his family was forced to leave their homeland of many generations because they were Jewish. But they continued to be proud Jews.
Our mother was widowed at a young age, but practiced Tzedakah for her entire life. We learned from her. When she could no longer care for her own financial affairs, and asked us for help with her checkbook, we found in that year she had written 90+ checks of $5 or $10 each to Jewish charities. When we told her that we wanted her to use the money for herself, she said, "Didn't I teach you girls anything? I am using the money for myself".
I have been blessed to be able to give back to the Jewish community. I have recently been warmly welcomed to the San Diego Jewish community and hope that the gifts made now and after my death will continue to demonstrate my family's caring about others.
Isaac Bashevis Singer wrote:
The good life is not passive existence
Where you live and let live
It is one of involvement
Where you live and help live.
I am proud to sign San Diego's Jewish Community Book of Life in honor of my parents and my late husband. I know that the Madden and Sabban families' tradition of giving back to the community will continue through our future generations.

Marlene Bellamy and Don Maescher
Although Don and I come from very different backgrounds, we are united in our commitment to philanthropy that ensures the continuity of Jewish and Israeli organizations for future generations.
Marlene: I developed a strong sense of Jewish identity from my parents, both of whom came from observant families. My mother was a Holocaust survivor who in early 1939 left her home in Vienna and moved to Belgium, France, and then over the Alps to Switzerland, staying one step ahead of the Nazis until the war ended. My dad grew up in London; his father emigrated there from the Ukraine around 1910; his mother came from Roumania. My parents met in New York City after the war, then moved upstate to a small town where they were active in their synagogue and Jewish organizations such as Federation and Hadassah. From them I learned the importance of giving back to the community, both in terms of annual giving and bequests, and of supporting Israel.
When Don and I moved to San Diego in 1986, I immediately looked for ways to make Jewish connections. Our daughter attended Temple Beth El's preschool. We joined the young Congregation Dor Hadash, a Reconstructionist synagogue that was comfortable for Don as a convert and me as a Conservative Jew. Serving on the board and numerous committees, I found that the greater my commitment—by volunteering as well as donating—the greater the benefits. Through my Legacy Plan I want to support the San Diego Jewish community organizations that have enriched my Judaic life, including Dor Hadash and the JCC's Center for Jewish Culture, where I've taken many classes. Another major philanthropic focus for both Don and me is ensuring that Israel has a secure future, through Federation, AIPAC, and Friends of the IDF.
Don: Out of respect for my Jewish fiancée, now wife, I converted to Judaism 40 years ago. I have never been a particularly religious person, either before or after my conversion. However, I have come to respect and admire the Jewish people. I especially feel an immense connection with Israel: their tenacity, their resourcefulness and their will to overcome hardship through the ages. Through our connections with AIPAC and the Friends of the IDF, I feel in a very small way that we are helping the Jewish people both survive and thrive.

Jack Maizel
Following in the steps of my great-grandparents, grandparents, and parents, I have had the honor and privilege of working in many of our great Jewish institutions. Though each organization takes on the honorable task of fulfilling Tikun Olam and/or Derek Eretz in its own special way, there are two inescapable facts that have always been an issue for any organization I have been involved with — First, there is never enough money to accomplish all that needs to be done, and second, The Jewish Community Foundation has always been present and ready to help organizations accomplish more than they would have been able to do alone.
Out of respect to so many worthy Jewish organizations and cognizant of the efficiency and diligence of the JCF, it is my honor and privilege to join the Book of Life.
With love for our Tradition and respect for our community, I hope that one day all our worthy organizations will have the means to effectuate as much progress, assistance, programming and deliverables, in order to maximize their and our potential in repairing our world.

Norman and Sivia Mann
On behalf of the Norman E. Mann and Sivia Brenner Mann families we are motivated to contribute to the survival of Judaism. In our small way we trust that our bequest will provide a resource from which the interest will assist those agencies whose purpose it is to stimulate the spiritual aspects of Judaism and further the support of Israel so that it is "a light unto the nations" – not just a cliché, but a reality.

Brian and Suzanne Marcus
Knowing from whence we came dictates where we are going. We value the miracle that Hashem has blessed the Jewish people to have survived the millennia. We appreciate that our families have remained faithful to our people in gifting us this rich heritage. We believe that it is our duty to leave the world better than we found it and all that we own is given to us in trust from Hashem. Tzedakah is a duty and privilege of being Jewish; and giving benefits the giver more than the receiver.
Our parents and grandparents came from Eastern Europe and England with a strong faith to make a new life for themselves in South Africa and we similarly uprooted ourselves as a young couple, to settle in our new homeland, the USA, in 1977. Since coming to the USA, the Jewish communities of Dallas and San Diego have been our extended family and we see it as our obligation to give back. We came with a great appreciation of the freedom and liberties afforded in the USA, while realizing the importance of identifying strongly with our Jewish heritage. We were blessed to raise three healthy daughters who call America their home.
Our message to future generations is to always live life to the fullest with an open heart and inquiring mind. Grandfather Marcus was a simple tailor in Cape Town from Mir in Poland, a pious and generous man, who always reminded his children and grandchildren, as we would like to remind our progeny, that the most valuable possession a person has as a legacy is a good name.
As it says in Pirkei Avot: The world rests on three pillars: Torah (learning and the law), Avodah (prayer and duties) and Gemilut Chasadim (Acts of kindness). This message, and a good name, is the legacy that we would like to leave.

Howard and Lottie Marcus
Shortly after Hitler came to power.I left Germany, my home and my family in early 1933. I went to Italy, a country whose language I did not speak, without the comfort of family or friends, or the support of a community.
Six years later, in 1939, after Hitler sent his Gestapo to Italy, I was forced to leave again, to a country whose language I did not speak, whose customs I did not know and without the benefit of much community support.
Thus, I learned to appreciate the importance of Jewish community support, and ever since, I have given my time and as soon as I could afford – financial assistance to the "United Jewish Appeal" and many other philanthropic organizations.
From my own experience I learned what it means to be without family and friends and community support, when in need.
Therefore, it gives me great satisfaction to realize that my charitable contributions may serve to make life a little easier and a little better for someone, in need, somewhere.


Jonathan and Ellen Marks
I grew up belonging to one of the pioneering Jewish families in Las Vegas, Nevada. As a small child, there was no synagogue so the community built one. My father built the synagogue and served as one of its first presidents. There was no Jewish education. A Jewish preschool was started. My mother and other committed women and men worked hard to start the preschool.
A small and tireless group of committed Jews started the Jewish Community Center of Southern Nevada. Both my parents and grandparents gave generously.
As a small child, there was much discussion about the formation of the State of Israel. My father and other community leaders worked hard to sell bonds and support the fledgling State. When my father showed me a commemorative gold coin he was given, I learned what a menorah was. I imagined that if I held the coin very tight, I might be able to go to Israel someday.
As I grew older, the values of giving and more importantly the happiness of giving a philanthropic gift were instilled in me. I dedicate my involvement with the Jewish Community Foundation to my Grandparents, Murray and Aggie Wollman, Sydney and Lena Moss and to my beloved parents Melvin and Corinne Moss who always led the way in trying to teach that to help one another in the Jewish Community is to help all Jews to survive, be strong and go forward.
I am grateful that my son Jonathan will be a part of the Marks Family endowment. I know he will continue a legacy of giving. He understands the responsibility well. A Jewish Day School education helped make him into a kind and caring man committed to Judaism and Israel. May many Jewish lives be touched by the Marks Family endowment.

Ron and Cathi Marx
Our family has a rich history of Jewish survival, tenacity and love of life. Ron's parents are survivors of the Holocaust. Taken as children with little education; they came to America and raised five successful children of their own. Their legacy of survival, tenacity, and strong Jewish values continue into the third and now fourth generations with their eight grandchildren and three great-grandchildren.
Cathi's grandparents left the pogroms of Russia; their Jewish legacy grew through entrepreneurship, philanthropy, family bonds, Jewish humor and storytelling.
We are keenly aware of what our own personal history of Jewish family traditions made in our own lives. With our children scattered across the country; it is not as easy to cultivate the Jewishness that we grew up with.
It is our hope that the legacy we leave behind will create a beacon of homecoming, so that regardless of where they go, our children will always have a path that will lead them home to their own familiar Jewish traditions.

David Meister
As a secular Jew, I do not have a strong connection to my religious heritage. However, I am convinced that it is tremendously important that the Jewish people continue and flourish as a unique people, because of all we have contributed and will in the future contribute to world civilization.

Eli and Susie Meltzer
We both were raised in traditional Jewish families where we were educated to love our heritage from our beloved grandparents, parents, and extended family. We learned by example to support Israel, give tzedakah and take leadership roles for Jewish causes. They mentored us to live a life being grateful for the blessing we have received and to value Tikun Olam to help improve the world through actions. As Hillel wrote: If am only for myself, who am I? If not now, when?
Together we have endeavored to help our San Diego community through our involvement in the Jewish Federation, Jewish Community Center and our synagogue, Ohr Shalom. Now as San Diego Jewish Community Foundation donors we are pleased to support the Jewish connections that have so enriched our lives. We are also proud our legacy will continue to fund our Jewish community for future generations.


Chana (Rosalinda) Mendez Gonzalez
"One thing I asked of Hashem, that shall I seek: That I dwell in the House of Hashem all the days of my life; to behold the sweetness of Hashem and to contemplate in His Sanctuary." (Psalms 27)
It was in 1998 that my dear friend Anita (Hana Olivensky), may HaKadosh Baruch-Hu bless her eternally, first brought me to Adat Yeshurun, to an amazing Perkei Avot class taught by Rabbi Wohlgelernter, whose theme was Mishna 1:4, Yose ben Yoezer, "Let your house be a meeting place for Sages" and 1:5, Yose ben Yochanan, "Let your house be open wide". B"H I have been here ever since, dwelling in this blessed House of Hashem that is Adat Yeshurun, contemplating in His Sanctuary the holy words of our Sages through the Torah of our Rabbi and our Rebbetzen and all our visiting Rabbonim and Rebbetzens, and beholding His sweetness in our precious kindele and in the beautiful faces and even more beautiful actions of our members!
My parents, Guadalupe Lopez Carrasco and Serapio Rivas Mendez (may his neshama be elevated), immigrants from Chihuahua in northern Mexico, raised a large family in a small rural town in Texas near the Rio Grande, and even though we were poor by U.S. standards, our home was always open to taking in people from their home towns who needed shelter or strangers who came hungry knocking at our door. From a very young age we were taught to share, no matter how little we had, to be kind and charitable and to show hospitality to all people.
It is in their honor, and in my grandparents' memory, Inocenta Lopez and Jose Antonio Carrasco, and Juliana Rivas and Francisco Mendez, and with great appreciation to Rabbi Jeffrey Wohlgelernter and Congregation Adat Yeshurun, that I gladly join the Adat Chai Legacy Circle. May the spiritual benefits of this legacy also accrue to my children, Ramon and Laura Xochitl, and to my grandchildren and my descendants be'ezrat Hashem.
With love and appreciation.

Lesley Mills
When I first began working at a Jewish social service agency in 1987, I did not know how profoundly my life would be impacted. I was immediately embraced by the community and the values of respect, tzedakah, service and caring became cornerstone to my life, making my work more meaningful. Now, at Beth Israel, I once again have the privilege to work with the Jewish community. I have chosen to support Congregation Beth Israel with my own legacy gift because I want to see the continuation of what has been so richly given to me.

Charles and Ilene Mittman
It is an honor for us to be able to contribute to Jewish charitable institutions. Our parents were immigrants from Eastern Europe who lived long enough to see the next generation fulfill the American dream. They felt that Jewish institutions played a role in that success and giving back to help others was an important family obligation.
We have been fortunate to work in health, education and cultural institutions. We feel privileged to be able to continue our family's traditions of community support and know that our four sons and their families will continue to do the same. Community support of Jewish institutions will become increasingly important as our society seems to be forgetting the concepts of Tikkun Olam, perfecting the world through good deeds, social action and the pursuit of justice. We hope we play a small part in maintaining the kind of nurturing environment which was so important to our development.
Clive and Tammy Moch
Out of love for our children Saul, Jed and Jena and in honor of our parents we leave this legacy to our Jewish community in San Diego. Our blessings are numerous and we feel fortunate to be able to endow our gift ensuring a continued vibrant Jewish world with appreciation and gratitude.

Elaine Moser
The Jewish tradition of tikkun olam has been a driving force in my life, and I want it to be a tradition forever. Congregation Beth Israel, my synagogue, and agencies like Jewish Family Service, which I consider to be the best of its kind in this entire area, need our ongoing commitment to guarantee that we, the Jewish community, can reach out to try to heal the world forever; and every penny counts toward that goal.
Gillian, Jonathan, Andrew and Natasha Moss
We arrived in San Diego in August 2001 from Dublin, Ireland with our two young children. The welcome for us all by the community that is Soille Hebrew Day School will always be precious to us. Thank you.


Mark and Ellen Moss
We are honored to fulfill our obligation to support the Jewish community through the Mitzvah of tzedakah.
Generations before us have passed on this tradition to us, and we hope to pass on the same legacy to our children. We are committed to ensuring the survival and growth of the Jewish community of San Diego, and through the giving of charity, we can make a difference in achieving this goal. We hope our gift will make life a little easier and a little better for someone in need.

Ann Mound
Naomi and Mose Levenstein, my parents, would be proud and happy to know that I was able to make this commitment to the future stability of the Jewish community via Congregation Beth Israel. I myself am proud and happy.
Having grown up in Greensburg, Indiana, part of the only Jewish family in town, our Judaism was not hidden; but it was careful. Our last name was Jewish, we didn't have a Xmas tree, we ate chopped liver; but we didn't flaunt it.
Since those years, it has become more important to me to stand up and be counted as a Jew – for myself and for my children Andy, Molly, Steven and Sam. The Dor l'dor Society at Congregation Beth Israel provides this opportunity; and the Book of Life adds a special way of sharing my personal pleasure with the entire Jewish Community.

Claudia Mulcahy
On my 9th birthday, I came home from school and announced to my non-Jewish family, "I'm Jewish!" My mother, curious about this news, asked me what I learned in school that day. I told her we sang Christmas songs, and the class sang Happy Birthday to me after we learned The Hanukkah Song—I burst into it: "Hanukkah, oh Hanukkah, come light the menorah…." In my nine year-old, ego-centric, birthday-minded excitement, I understood the Hanukkah Song to be about my birthday. A party with nine candles, getting a treat, games, food, and candles burning low while remembering the day I was born. Oy!
As an adult, I became a Melton student, missing only one class of the two year course, due to surgery. I continue to enjoy Jewish culture and events, especially the Adult Education Lecture Series. I embrace the idea that has been given to me by a Jewish friend—That I am a Cultural Jew.
I am blessed to have known how to budget money, and to have had the discipline to live within my means. My ability to contribute comes from my desire to give, and my decision to support the Jewish culture and teachings that have a special place in my heart. I hope others benefit, and carry the Jewish culture forward.
With gratitude and joy,
To Life!

Alan Nevin
Tzedakah is a way of life in my family. Generations of my relatives have been presidents of shuls, Jewish foundations, local chapters of United Jewish Appeal, Israeli Bonds and many more organizations that are an integral part of the Jewish community. I started my Jewish community career as an AZA President in Washington, D.C. and later served as President of Argo Lodge B'nai B'rith. It's something you don't think about. You just do. Like eating or sleeping. Like my mother always devoted time to Hadassah, her shul and the Hebrew Home.
It is also notable that even though we live in a community that is 97% non-Jewish, virtually all of my friends and business acquaintances are Jewish. Many, maybe most, of those friends I know as a result of my activities in the Jewish community service organizations. Further, most of my financial success results from my relationship within the Jewish community. Therefore, contributing to and endowing the Jewish community is but one way to thank you for numerous wonderful friendships.
In the original edition of Nancy and my will and trust in 1977, I included B'nai B'rith. Each time we do an update, we update the charitable list. This time we will include the Jewish Community Foundation and UJF. That way our gifts can be of assistance to the Jewish community long after we're gone. And, of course, we try to be generous donors while we're here. As an estate planner recently told me: shrouds have no pockets.

Ronald J. Newell
I have chosen to leave a legacy to Congregation Beth Israel for many reasons. The most simplistic have to do with long term membership and the observance of the full gamut of life cycle events with its members. Availability of the Saturday morning lay-led Minyan service for spiritual rejuvenation was another impetus to my action.
However, the most outstanding Congregational attribute is its approach to Tikkun Olam, or repairing the world. We do not segregate our caring for others to only those who subscribe to our faith. The Congregation pays for the food and organizes the volunteers who serve it every Sunday at St. Vincent de Paul. It has done so for over 22 years.
I feel that is truly walking the walk of the Torah's teaching and, therefore, worthy of my support.


Larry and Rebecca Newman
We were fortunate to come from families with a strong sense of Jewish values, traditions and communal history. Arriving in San Diego in 1974 with our two young daughters, Karin and Dana, we knew that it was time for us to establish our own Jewish connection. We found a community that was welcoming and encouraging with leadership, institutions and organizations in place that enabled our family to enjoy the richest of Jewish lives. We joined Congregation Beth Israel and educated our children in its religious school. We participated in the programs of the United Jewish Federation and it became our window to the Jewish world beyond San Diego and the avenue to our ongoing love affair with the State of Israel.
Over the years we were mentored by wonderful leadership who enabled us to serve the organizations we loved: the Federation, Congregation Beth Israel, Seacrest Village, the United Jewish Appeal and the American Jewish Joint Distribution Committee. When it was time to think about the legacy we wanted to leave our children it was important to us that through our endowments they would appreciate how greatly our involvement with our community had added richness and texture to our lives. We also wanted to ensure that succeeding generations of young Jewish families would find a strong and vibrant community awaiting their participation – a community dedicated to the dignity and quality of Jewish life, sustained by Torah, Chesed and the free and democratic State of Israel. It is with joy and great hope for the future that we sign our San Diego Jewish community's Book of Life.

Joseph Oppenheimer
I was fortunate to have a wise father who brought my mother and me out of Nazi Germany to the U.S. in 1935. Hitler had already imposed regulations that doomed my father's business, but we were healthy and alive, while some relatives were not as lucky.
In our early years in this country, I received "scholarships" and "special consideration" for summer camp. Later as my career prompted several moves to cities where I knew no one, my adjustment was greatly eased by my ability to and desire to affiliate with and participate in Jewish life.
I was able to contribute by serving on both synagogue and Jewish social welfare Boards in New York City and San Diego, and personally observe the vital role Jewish communal organizations play in maintaining and continuing Jewish existence.
Consequently, I feel it is not only an obligation but a privilege to be able to help others in the future.


Lawrence Oster
The ability to help others is one of life's greatest joys and privileges. From assisting those in crisis, guiding someone to become independent or providing long-term sustenance, having a positive impact on someone is blessed.
Whether the Federation, a Jewish Agency, Synagogue or the general community, the opportunities are almost infinite and all are deserving of our time, attention and financial support.

Andrea Oster
I had the double blessing of growing up immersed in a strong Jewish environment in Cleveland with parents who taught me the values of tzedakah and commitment to Jewish community. Replicating this for my daughters has and continues to be a core principle.
By endowing my gift to our Federation, I am a role model for my daughters and help ensure a strong Jewish community for future generations in San Diego, Israel and around the world.

Irving and Anne Pinkel
As a child, I remember each year before Rosh Hashanah my father would sit at his desk and send contributions to his favorite charities. The first check always went to HIAS, the agency that helped him get settled when he arrived in Pittsburgh from Russia in l909. He knew no one in that city.
Jewish agencies, religious schools and synagogues have shaped our lives. We feel it is imperative that these institutions live on to nurture future generations.

Shearn and Linda Platt
L'Chaim - To Life
Life is a beautiful gift. It is important for one to appreciate it and not take it for granted. For us as Jewish people, we know the meaning and worth of the ways of our ancestors. We want to ensure that others share these values and traditions and have the opportunity to experience all that our rich heritage has given to us.
By practicing tzedakah we are able to perpetuate all that we deem to be so vital and essential to life – L'Chaim.

Kenneth and Lori Polin
We believe the Jewish tradition of giving is one of the greatest attributes of our faith. To endow it in perpetuity through legacy gifts fulfills the commandment of Dor L' Dor. More importantly, in our family, it demonstrates to our four children the importance of giving back to the community. It also helps to shape their connection to philanthropic and social opportunities.
As active participants in the community, we have learned the important role that the United Jewish Federation and the Jewish Community Center perform for the local community, as well as Israel and Jews throughout the world.
During our adult lifetime in San Diego we have seen the Jewish community prosper and grow.
Our leadership roles have given us a front row seat to observe and construct the seeds of change. As a Lion of Judah, Lori sets an example for our two daughters regarding the meaning of Tzedakah and leadership.
Our legacy gifts to UJF and the JCC will do our small part to ensure that these organizations that serve the community will continue to do so for future generations to come.

Janet and Larry Pollack
We both had good examples from multiple generations of family supporting the synagogue. Janet's paternal great-great-grandfather was a founding member and former President of Temple Emanuel in Denver, which coincidentally, two generations later, was the same Temple where her mother's family belonged and where her mother was confirmed, followed in the next generation by her own Confirmation and subsequent wedding. Larry's parents have been members of Temple Adat Shalom since early in its existence and have always shown support both in deed and substance.
We feel that if our ancestors had the foresight to build and maintain Temples for us to use, it is our obligation to leave that same legacy for future generations.


Cheryl Rattner Price
We are very blessed to have been able to send our kids to San Diego Jewish Academy. In 2002, I donated my ceramics studio and tile inventory to SDJA and was given the honorary position as Artist in Residence. My life took a direction which allowed for my deepest loves, that of art and Jewish learning, to be seamlessly combined. Together with 200 families we created a 10 foot free-standing mosaic menorah. Next came Zikaron V'Tikvah, The Butterfly Project, an artistic memorial now in multiple locations using the symbol of a ceramic butterfly to memorialize the 1.5 million children who perished in the Holocaust and honor the survivors.
I am motivated deeply by memories of my grandparents and parents who were proud to be Jewish but struggled to define why Judaism mattered.
I came to realize that Jewish identity and survival are very central themes in my life. The quality of Jewish education available today really inspires me and I know only some of us take a drink; and I hope to spread that spark somehow, because if it could happen to me it could happen to anyone.
I am grateful for the Agency for Jewish Education programs, and my role as a Board Member, involved with others creating Jewish-based learning.
Also, it is so important and urgent to be able to stand tall with dignity as a Jew and I am excited to be involved with the ADL Anti-Defamation League.
I realized the time is now to give back to the community that has so supported us. I am grateful to be able to step out and show the power of Tzedakah to my daughters, Emily and Julia. L'Dor v'Dor… we do make a difference when we work together to build a strong community.

Anne Ratner
Through the years, I had many conversations with my father-in-law, Isaac Ratner. He told me when people walked up to our factory and asked for help, he never turned anyone down. He was afraid that the one person he might refuse would be the one who was in the most dire straits and needed his help the most.
I always believed that this was a beautiful way of expressing a philosophy of giving. Since then, my family has been inspired to follow this advice.
Each generation builds upon the other, trusting that our heirs will continue these traditions of giving and that our children and grandchildren will carry on.
We are very thankful to the good Lord who has blessed us and enabled us to help those in need.

Emanuel and Shirley Ravet
How do we feel about our commitment and why are we doing this? There is so much in our history that has caused grief and pain along with tears. We think about being Jewish and smile because we are proud. Proud to be a Jew and proud of our heritage, our compassion, charity, devotion to all causes and love of humanity, especially our own people. We have a worldwide family and there is a country where we are always welcome, Israel. To all of this we make our commitment.

Henry and Barbara Reed
We have always been involved with Jewish charities. We have found that UJF is the ideal repository inasmuch as it distributes its collections to myriad charities. So when we established our charitable remainder fund we decided that the lion's share should go to UJF.

Lois Richmond
My parents came to this country as immigrants from Romania and Russia. As a child, my mother was a wonderful, caring and thoughtful role model for me. She taught me the true meaning of "giving back to the community."
She kept a blue tzedakah box in the kitchen and would put a few pennies in it every day. That was a lot of money back then. She was very involved in Hadassah and the Sisterhood at our Temple.
When we moved from Flint Michigan to San Diego 1949, I became so grateful for the lifestyle here. My family got involved in many charitable organizations, particularly Jewish Family Service of San Diego. We are very proud of their work. They are there to serve San Diegans in need, no matter what their religion.
It is my dream that the next generation of San Diegans will continue to keep alive our Jewish heritage and tradition of Tikkun Olam. Hopefully, my legacy gift will in small way support their efforts to give back to this wonderful community.

Bruce and Sheri Sachs
We have been members of Temple Solel for the past 18 years. Our entire life revolves around friends, events, and gatherings that encompass this Jewish community. Our legacy commitment comes directly from our passion to continue this "spark of life" for future generations.

Rae Samiljan
I was surprised and delighted when my husband elected to honor me with an endowment that allows my annual gift to Federation to continue into perpetuity. Now I know that from my grandparents, to my parents, to my husband and me, and hopefully to our children, this tradition of tzedakah will continue. I hope the links of this chain will continue forever and that the benefits of my gift will help to reinforce the continuity of our traditions and strengthen our marvelous San Diego Jewish community.
Ed and I benefit everyday from our close associations in the Jewish world of San Diego. May it continue to grow, prosper and provide its wide array of services to the community.

Irwin and Gloria Scarf
We are from New York and raised our family in Phoenix, where we have been very involved in the Jewish community for many years. About eight years ago, we started to spend part of each year in San Diego, where we discovered Congregation Adat Yeshurun. Adat quickly became another home for us, with a wise rabbi and wonderful people. The shul has been very good to us. For example, when Irwin was sick, Rabbi Jeff and members of Adat went out of their way to assist us. For these reasons, it is our pleasure to be able to leave a legacy gift to Congregation Adat Yeshurun.
Our dream for the Jewish community is that it becomes more Jewish! We have three children, 10 grandchildren and 19 great-grandchildren – and we are proud that they are carrying on our Jewish heritage, each in his or her own way.

Howard and Diane Schachat
Approaching Rosh Hashanah 5772, we once again reflect on who we are, how we might improve ourselves and find ways to ensure that our connection to Jewish roots remains strong and deep. We are grateful for our health and blessings; for Ryan's marriage to beautiful Lisa this year; for our parents, siblings and friends; and for the Shul we attend. We also remember those who impacted our lives and are no longer with us, particularly Howard's father Harry and grandmother Rebecca as well as Diane's grandmothers Naomi and Rachel, and aunt Avrille, z"l, all of whom instilled in us Jewish values of love, generosity and kindness, and ultimately inspired us to contribute to our Jewish community and sign the Book of Life. We hope that our contribution, in its own small way, will help strengthen the Jewish Life of San Diego for many generations to come.

Sanford and Marjorie Schane
We would like to carry on the Jewish tradition by honoring and fulfilling our obligation to support the Jewish community through the mitzvah of tzedkah.
By providing a legacy to Congregation Beth Israel we can serve others in the Jewish community during times of crisis, assist families unable to afford synagogue membership, or help to educate our children in the Jewish faith.
Dor l'dor, from generation to generation, may our contribution benefit future children, grandchildren and great-grandchildren.

Sheldon and Lillian Scharlin
In thinking what we would like to express in our Book of Life, we thought of all the lofty reasons that have been given and undoubtedly will be given over the years for what we do and why.
They could be life's experiences of having been forced out of your birth country as a result of the Hitler era. They could be our undying love for our Israel, and on and on.
But the truth is, we have always had, do now, and will always have a love affair with our people wherever they may be. We hope our contribution together with so many others will fulfill the Jewish dream.

Steve and Linda Schechner
Having been brought up in Conservative Jewish homes in Philadelphia, Linda and I feel very strongly about the value of Judaism, synagogue and community. We especially believe in the ethics and moral codes as taught in the Torah. We believe that it is our responsibility to see to it that Jewish institutions continue to exist to teach Jewish values to future generations.

George and Mary Ann Scher
There are events in one's life that make you sit back and take an accounting of your own life. My sister passed away suddenly at a young age. Her will was very general and did not reflect her life or her philanthropy. George and I wanted to be sure that this didn't happen to us and that our will was a living document of who we are and what we stand for.
My Lion of Judah Endowment to United Jewish Federation is a result of that experience. I wanted to leave a permanent gift in San Diego for an organization I care deeply about and believe in wholeheartedly; and I want my action to serve as a role model for my children.

Jane Scher
I was privileged to grow up in the thriving Jewish community of South Africa, where I was always aware of the extreme generosity of my grandparents and parents to many causes.
Their ongoing commitment and sense of responsibility has had a lasting impact on me. I believe that our children will ultimately be influenced by what we do. The wellbeing of the local and worldwide Jewish community and Israel is central to me and my family. It is our hope that this endowment will help to secure a strong Jewish future and express our commitment and love to the Jewish people.


Irving and Gloria Schiffman
As the sole member of my family, who fortuitously left Poland one year before the outbreak of World War II, thus personally escaping the ravages of the Shoah (to which my entire nuclear and extended family fell victim), I am eternally grateful to this country, which for me became literally the goldene medine.
After my US Army service during World War II, I seized the opportunity, under the education provision of the GI Bill of Rights, and completed a course of study which enabled me to pursue a career path in the United States Foreign Service, culminating upon retirement, in the position of U.S. Consul General.
I was further most fortunate in finding a life's mate, who has truly been the fountainhead of our loving family of three children, three grandchildren, and one great-grandchild. We both come from traditional Jewish families, deeply imbued with the ethical values of our ancient people. As a child, I often heard my father propound Rabbi Hillel's precept on the essence of Judaism: "V'eahafta l'reacha kamocha" (love thy neighbor as thyself). This dictum resonated with me throughout my life, and has become for both of us the hallmark of the Jewish ethos. Tzedakah toward those in need is its ultimate expression, and we have made a commitment, within our limited means, to this quintessential Jewish value.
Also, we regard community service as important. My wife, Gloria, has set an example for our children through her commitment to Jewish causes by her active service in various Jewish organizations in San Diego.
Hatikvah (hope) and Tzedakah are a winning combination, and we hope that our modest acts of tzekakah, through the San Diego Jewish Community Foundation, will honor the memory of our parents, and set an example for our children and grandchildren to emulate.

Jack and Sherron Schuster
We are pleased to be signators of The Book of Life and by such reaffirming our strong belief in Judaism and its inherent values. For us that translates into a continuous responsibility to build and enhance our communities, both Jewish and secular. By so doing we also hope to set an example for our progeny and others with whom we come into contact.

Bob and Judi Schwartz
Congregation Beth Israel is a warm and welcoming community to all. It has been our congregational home for almost thirty years.
By including CBI in our estate plan, it is our hope that financial considerations will not be a barrier to families in their decision to join Congregation Beth Israel. We also want to show that all families can step forward, at their own personal level, to leave a legacy of hope and help to the future Jewish community. Leaving a legacy to CBI is not just the responsibility of those with greater financial wealth, but the responsibility of all Jews who want to take a part in continued Jewish community life.

May Sebel
L'dor V'dor To me, these words are worthy of constant focus for all Jews in today's world. The generations that came before us deserve reverence for both what they endured and for what they accomplished for us. By supporting our Jewish institutions today we will ensure a bright and lasting future for generations to come.
By remembering Congregation Beth Israel in my will I honor the many years I was privileged to serve the Temple. Although I am no longer a resident of San Diego, I will gratefully remember the religious home Beth Israel provided me for 16 years, and the wonderful clergy and congregants with whom I worshipped and worked. My gift to the congregation is intended to provide for the continued beautification of the sacred space so that it will always be a special destination for worship, education and community-building.

Charlene Seidle
I have been blessed with caring parents, Stanley and Debby Seidle, who realized the value of a Jewish education. My earliest memories are of walks to shul with my sister Rachel filled with an excitement and enthusiasm that I now strive to achieve again. My Jewish schooling and the traditions I learned at home provided me with a strong foundation that enable me now to make educated choices about how I practice Judaism.
I'll never forget a principle passed on by grandfather to my father. He said "It can take years to build a good name, and just moments to destroy it." This made a significant impression on me, and I have tried to live my life on this basis. Working for the Jewish community allows me to put into action the values that I was taught.
I hope to one day have children of my own as well as nieces and nephews. This legacy is part of my attempt to be an example for them, as others have been role models for me. It gives me great joy to think that, through my legacy, future generations of Jewish leaders will be created.

Frances Sekela
My name is Fran Katz-Sekela and I was born and raised in Newark, NJ -- an American Jewish shtetl. That Jewish Paradise came to its end in the late 60s; however, the place received a new immortal life in the Philip Roth novels. Philip and I attended Weequahic High School where 90 percent of our classmates were Jewish kids leading a traditional Jewish life, which always included sharing with the less fortunate. Our family wasn't poor, but we definitely weren't rich. I vividly remember that each major Jewish holiday when my beloved, av shalom, mother Dora set up the table there were always at least two extra plates. I was only five and so excited that I learned how to count using my fingers, that I couldn't stop myself from counting everything. When I saw the extra plates for the first time, I suspected that my mother made a mistake. "Look, there is my twin sister Jo, my little brother Jerry, you Momma, Daddy and me. It makes five, but you set seven plates down on the table," I tried to correct my mother when she told me, "It doesn't matter how poor you are, there is always someone who has much less than you have. Please remember that being Jewish means to know how to share your good fortune and luck with the people who have less. That is the reason why I put additional plates and invited two of your father's employees to share our holiday meal."
My parents started to teach us about charity at a very young age. In the old Austrian cupboard that used to belong to my paternal grandparents, next to our best china had been sitting a huge cookie jar where my mother put her change after doing her grocery shopping and where my sister, brother and I were told to put loose change and some portion of our weekly allowances. At the end of the year, on Rosh Hashanah, my parents helped us to take down the heavy (pishka) jar to our local synagogue and donate that mountain of coins and paper money to charity. Of course, my father Sol never forgot to write a generous check to go along with his children's collection. My father, Sol Katz, firmly believed that it feels far better to give than to receive. He was such a giving person, but frankly speaking I don't remember him receiving from anyone up and until his dying day. I know for a fact that when my father got an incurable cancer and was admitted to the hospital, he begged the local rabbi to visit him and collect his tzedakah.
Down the road I made my daughter Cheryl and son Seth aware of my parents' beliefs about charity and its significance. My granddaughter Danielle, the oldest grandchild, is the offspring of a wealthy family from Persia; however, she didn't think twice before spending her summer break in Israel helping Moroccan-Jewish refugees to improve their Hebrew and English. She wasn't paid, and upon leaving Israel she unloaded her backpack and divided her trendy stuff among her students. I realize that even a small contribution will help strengthen my congregation and community and give someone a second chance in life.
I'm grateful to be able to contribute to the Jewish community and to sign the Book of Life.
Bette Shatoff
I am proud of my Jewish heritage and would have liked to have attended a nice Jewish day school as a child. Two of my four grandchildren attended Soille Hebrew Day School for a short time. It was a wonderful experience that I would like every Jewish child to be able to experience before going to college.

Lawrence and Barbara Sherman
We grew up in New York City, where Jewish was so pervasive that you never talked about it. It was in the air, the food, the water, the culture. In 1976 we moved to San Diego. For the first time in our lives we had to find Jewish. Needless to say, it was not easily found and we felt disconnected and different for the first time in our lives. Thank goodness we did finally connect with the Jewish community. It has been the focus of our lives for the last 20 years. It is where we feel we have really made a difference in so many ways. We feel blessed to have had the opportunities we have had, locally and overseas. We discovered the meaning and importance of Community.
We are sad that our children will probably not return to San Diego to participate in this wonderful community that we feel that we have played a significant role in building. Fortunately, others will have the opportunity. We wish to leave a legacy so that they will be aware of how important community building is. We also want them to know that tzedakah was an important part of our lives. It is only through the continuity of the generations and the building of community that we will survive.

Yaakov and Devorah Shore
We are second generation Americans. Our grandfathers came from Kiev and the Ukraine, our grandmothers from Poland. We grew up in mostly Jewish neighborhoods, Devorah in Brooklyn and myself in Philadelphia (until high school when we moved to a gentile suburb). Our families didn't keep shabbas, though Devorah's parents kept kosher. I marked time until my bar mitzvah, then stayed away, except for high holidays. I would also give tzdekka to shuls and the federation. Our knowledge of Torah was very limited in shabbas and kashrut; we knew nothing of the oral Torah, lashon hora, tshuva, etc. Rashi wasn't even in our vocabulary.
In my early fifties, I became observant in Los Angeles--after the passing of my younger brother there--simply by saying kaddish and going to weekly classes on the parsha. My brother's passing triggered a deep feeling of Jewishness inside me, a sense of belonging going all the way back to Sinai. Devorah has "always spoken to G-d," however she didn't begin to appreciate living a traditional Jewish life until she visited her middle child, Tzippora, who had moved to Jerusalem, married an aspiring rabbi, and had two babies.
Devorah saw the life her daughter had and wanted it for herself, too. I met Devorah, through a rabbi in Seattle, shortly after her return. I had already turned observant, and she was ready to. We married within five months of our meeting and honeymooned for two months in Jerusalem, after which we moved to La Jolla to join Adat Yeshurun for its rabbi, Jeff Wohlgelernter, the warm and welcoming congregation and, of course, the weather.
The Adat Community has proven to be a wonderful role model for us in many ways, serving as a path to continue our growth in learning and middos (character). Whether making shabbas for people, davening, visiting the ill, attending a simcha or life altering event, we never fail to appreciate the community here or the opportunity to grow as Jews and as individuals in society.
Our lives have fuller meaning and our purpose has become more defined since moving here to join Adat. Obviously, we've grown from our learning and being with others outside the community, too. We understand, from our traditional sources, how a Jew is different from others and how he should lead his life, and make an effort to behave in accordance with Torah principles.
Hashem has blessed us with the means to help our family and fellow Jews. With our endowment to Adat, we pray that it will aid others directly and indirectly in getting closer to Hashem and living more rewarding lives.

David and Marni Sider
When our kids were little we explored a few temples in the area as we knew we wanted to have our kids grow up with a Jewish identity. When we found Ganon Gil and the warm and open people of Temple Adat Shalom, we knew we found the right family. There was no sense of pretentiousness or entitlement and now many years later our kids have a life-long connection to a very special place. It is our honor being able to leave a legacy to Temple Adat Shalom.


Lee Siegel
Like Reconstruction Jews, I don't believe we are the "chosen" people, but we are very special people. I'm proud of our history, and our culture. Our tenacity and fortitude have kept us around when so many ethnic groups have died out. Our emphasis on education and civic duties runs deep. Not bad for a small group of "nomads" who kept getting "kicked out."
T'kun Olam - to help the less fortunate is noble and blessed.
Fern Siegel
Leaving a legacy is my way of expressing my gratitude to all those in my community who have given so much to me. It's an opportunity to give back. In raising my two disabled children and my third child adopted through Chicago's Jewish Children's Bureau, I received so much help and support from so many people. I get a sense of accomplishment from serving in my community and am grateful I am able to do so. I hope not only to leave this financial legacy for future generations but to have left a legacy of accomplishments which will make a difference in the lives of others.
My parents were loving and caring. They taught me by example. They were proud of their children and in turn I was proud to be known as their daughter. They both contributed to their community in Toledo, Ohio. My Mother was known for the many piano recitals she performed for Temple Sisterhood and Hadassah. She was recognized for her work for the boys in the service by sewing quilts for the USO. My Dad was recognized for his leadership in successfully driving campaigns to build a new Jewish Community Center and a new wing on the Jewish Home for the Aged. He served as President for the JCC, Vice President of the National Jewish Welfare Board, and Secretary of his Temple. So tradition has taught me to follow in their footsteps.

Ronald and Anne Simon
Our family has been a member of Congregation Beth Israel since 1971, and the synagogue has had an important role in our lives. It has been the place where we could come and join other Jews to observe our religion, teach our children about Judaism, and participate in Jewish activities. It has also given us the opportunity to contribute time and effort as a board member and officer.
By making this gift, we are doing a little to help perpetuate the activities of our synagogue so that families who join it in the future will have a wonderful place to pray, learn, celebrate, and express themselves as Jews.

Arnie and Lucille Sirk
For many years we have been blessed with a good life. Thus, we have felt that we should share our blessings with those who are not so fortunate. We have tried to live lives that have made a difference. We hope that we have been role models for our children and grandchildren and that philanthropy and a concern for others will always be one of their priorities.

Phil and Ruth Slonim
We are very grateful to be able to contribute to the San Diego Jewish community and to sign the Book of Life.
We know that our contribution will help strengthen, in its own small way the Jewish life of San Diego.

Herbert and Elene Solomon
With gratitude we believe in sharing our blessings by contributing annually a significant share of our income and by leaving legacies: to benefit the less fortunate who are in need, to enhance the well-being of the Jewish people in San Diego and elsewhere, and to repair and improve the world in which we live.

Steven and Esther Solomon
It is an honor and a blessing for both of us to have the opportunity to continue our people's tradition of giving. It is humbling to be a small link in the chain of Jews working for Tikkun Olam, from generation to generation. We are so very fortunate. We have been given so very much.
We have been given so much by the San Diego Jewish community, gifts like caring, learning and belonging. And we have been given so much by parents who showed us how to be Jews. Parents who led lives of giving, lives of standing for our people. We fervently hope we can give this precious gift to our beloved son, Lewis, who gives us so much love and joy every day. We have been given so much by our beloved homeland, Eretz Israel, and we have been given so much by our great United States of America.
We are proud to be Jews, proud to be members of our San Diego Jewish community, proud to be members of Clal Israel. Part of that pride is from knowing that we have strengthened our community that we have given back to our Jewish brothers and sisters.
We had the privilege to hear Rabbi Yitz Greenberg speak about living Jewishly meaning that we must "choose life" in how we choose to live. We see signing the Book of Life of our San Diego Jewish community as choosing life in death.
We feel honored to do so.

Barbara and Bill Sperling
With a grateful heart we sign the Book of Life – and thank our wonderful parents and families who nurtured and taught us through their actions the value of kindness and goodness which were, and continue to be, the foundation of our lives.
Growing up in the bustling shtetle called The Bronx, New York, poor – although we never knew it – we understood that although we might not have many things of material value, we were still able to give something of greater value to those who were in the most need. If we could not give from the pocketbook, we could give from the heart with our time and energy. Growing up together since High School, we cherish those special opportunities of "giving back".
We now look toward the future as we celebrate 54 years of marriage passing our values on to our children and grandchild to use their talent to make the world a better place.
So once again, we can say: we give from the heart, our time, our energy, and now, our living legacy.
L'dor v'dor.

Mark, Jill and Rebecca Spitzer
We're happy to help Jewish Family Service by way of a bequest. I have had the privilege of serving as the agency's executive director for over 17 years and know how important legacy gifts are. JFS has strived to maintain a rich network of programs and services that are continually changing in response to community and family needs. But one aspect of our work remains unchanged: the challenge to raise the funds necessary to serve as many people as possible. That is why bequests are essential.
As a family, we believe in the mission of JFS and hope that others will join us in supporting their favorite charity. To the extent that we can rely on each other for support and engage in activities of common concern is the extent to which we will continue to have a vibrant, humane and loving community.

Marcia Kern and James "Marty" Stern
We both come from families that were involved in the Jewish community wherever we lived. Our parents helped start synagogues, and participated in Jewish life and organizations such as the Hebrew Home, Federation, National Council of Jewish Women, Jewish Family Services, Survivor support groups,and many others. Volunteerism and Jewish life were part of the fabric of our families as we grew up. As a result, we feel very strongly about giving back to the Jewish community that helped us and our families along the way. We want those organizations to be available and supportive for future generations just as they were to us. The work that the Jewish community does not only for its own members, but for others in the greater community, is truly the work of Tikkun Olam. Our parents were models of participation and giving; we want to continue that example to honor them.


Judy Spaner Stern
As I travel through my seventh decade of life, I find myself reflecting on my life experiences and values that make me the person I am today, the person I will be tomorrow, and the person who will be remembered.
My identity as a Jew, my understanding of the history of the Jewish people, and the teachings of Judaism began at a very early age. I read and re-read the Old Testament books for children, with their fascinating color plates and illustrations. Even though Passover would be months away, I would search my mother's dining room buffet for the old hagaddahs and pore over the pictures and the verses. I grew up in a mostly Jewish neighborhood in Northeast Philadelphia. I never experienced anti-Semitism, because it seemed as though everyone was Jewish. My world was Jewish. I attended the Workman's Circle School for many years, so that I could learn the Yiddish language and the culture, through literature and music. I read the weekly Jewish Exponent to see who was having a Bar Mitzvah and later, to read the engagement and marriage announcements.
I drifted somewhat from my Judaic roots in my younger adult years, while at the same time trying to instill in my children the core values ~ how you treat others, education, and giving back to your community.
And now I am back ~ back to the exploration of Jewish culture, my religion, my heritage, my people. I am grateful for my spiritual reawakening. I am grateful to my Jewish community here in San Diego. And I am grateful that I have the means to give back and to help sustain and grow the future of Judaism in San Diego.

Rodney and Gloria Stone
Our endowment is an expression of our hope for and faith in the continuity of the Jewish people. It affirms our belief in the importance of Jewish community and the centrality of Jewish values in our lives. It gives us the opportunity to make tangible these values to our children and grandchildren.

Mark Stuckelman
I learned firsthand about the generosity of the Jewish community when my home was destroyed in the 1991 Oakland Hills Fire, and I received a grant from the local Federation to get me back on my feet. Over the next 20 years, I became deeply involved with the UJF and JCF and learned much more about the tremendous support these organizations provide to Jews locally and around the world. I witnessed the positive impact Jewish organizations have on people's lives and the sense of community and Jewish identity they helped foster. I also saw the enormity of need that exists. For these reasons, I have decided to make support for Jewish philanthropic organizations a key component of my legacy.

Michael and Deena Swidler
Our Jewish community depends on tzedakah to thrive. We are leaving this legacy because we want to convey the importance of being Jewish to our children and teach them about helping the community. We hope they will continue our families' Jewish traditions.

Robert and Mary Stuart Taylor
We have established a Charitable Remainder Trust and named Temple Adat Shalom as the beneficiary. The synagogue is an important place to the two of us, where we share the same values as others. By establishing a CRT and making the Temple the beneficiary, we are helping to secure Temple Adat Shalom's future.
There is very little, if anything, that lasts forever, but an endowment continues in perpetuity, year in and year out, and assures to future generations—l'dor v'dor—the legacy of a strong and vibrant synagogue in North County Inland.

Martin and Angelica Teal
We and our children were able to have a Jewish education thanks to the foresight and effort of parents, grandparents, and other generations that came before us. We feel that we have an obligation to support education in Jewish values and promote the continuance of the Jewish people for those who will follow us. We see value in this not only to sustain the culture of our people, but also because the lessons of Torah and the continued tikkun olam of future generations will make the world a better place.

Gertrude Thaler
San Diego was home to my father before the turn of the 20th century. It was still home to his descendants as the 21st century came over the horizon and with the hopes of a continuing tradition, the family will always remain here.
I am proud that I have been a close observer of the development of our Jewish community and the enrichment of our cultural life as we continue to preserve the memories of those who came before us and for those to whom the torch is passed.
The gift of giving fulfills my obligation as a Jewish woman to a city and a community of people that has brought many honors and happiness to my life. It has endowed me with the privilege of performing tzedakah in the names of my parents, George and Anna Shelley and my late husband, Morton Thaler and myself.

Nessim and Sarah Tiano
We were both born in New York City to parents who came to the USA from Turkey in 1920. Growing up as Sephardic Jews, we were taught to always share our good fortune with people who are less fortunate and in need of assistance.
As a result, we have embraced the principle of Tzedakah, and we believe that our children will continue this family tradition. We recognize the importance of endowments and we hope that our legacy gifts to the Jewish community, including the Lion of Judah endowment, will not only help to provide the assistance needed by the less fortunate, but will also insure the preservation of our heritage, culture and traditions.
Steven and Sharon Tradonsky
Our support for the Jewish Community Foundation Book of Life programme reflects our wish to enhance and nourish our Jewish Community for future generations.

Eva Trieger
I am thrilled to have the opportunity to join the Legacy Circle and sign the Book of Life because I am eternally grateful and appreciative to Adat Yeshurun and Jewish communities around the world. I first came to Adat because when my father visited me in San Diego, shortly after losing my mom, he felt instantly welcomed and at home davening with Rabbi and the daily minyan. The family of Adat readily absorbed and engaged my dad, and it eased his loneliness and helped him through his grief. I began attending each Shabbat with him, and when he returned to New York, I felt so much a part of this shul that I joined and became active on committees as well as attending classes to stretch and grow in my own observance. Since then I have had the delightful opportunities to accept kind invitations for Shabbat dinners, lunches and community festivities. It is a very special group, filled with love, purpose and Yiddishkeit previously unknown to me. I proudly join the Legacy Circle and sign the Book of Life so that future generations can celebrate their unique attachment to Judaism and experience this encompassing and unique community. Thank you.

Nancy and Robert Tuggle
Our parents are survivors of the Holocaust and they have instilled in us a commitment to the mitzvah of Tzedaka, the Jewish community and the State of Israel.
We have been truly blessed to be a part of the Congregation Beth El community and were hoping to give back in some way. Congregation Beth El has welcomed us and been there for us through the ups and downs of life, forever reminding us that we, as a community, are one. Our hope is to have a strong Jewish community for generations to come.

Jan Tuttleman
I endowed my annual UJF gift and other gifts because I believe in and feel passionate about the San Diego Jewish community. I want to be sure that if anything happened to me, my gifts would continue to be given.
Since the untimely death of my husband at 41 years of age, I know how fragile life is and how one needs to prepare for the unexpected. Our Jewish community, both local and global, depends on my endowment gifts; therefore I want them to know that they will always be able to depend on me.

Louis and Tammy Vener
Ours is a special community. It flourishes not only because of the financial support of its members but also because many of us choose to affiliate, volunteer, involve ourselves with continued Jewish learning and to participate in some way to perpetuate the vitality of Jewish life in San Diego.
Through our professional work with Congregational Beth Israel, JCC and Jewish Family Service we have been especially blessed to touch the lives of so many families and children and to in turn be affected by them. Our legacy is a gift to future generations so that they may have the opportunity to enrich their Jewish lives.

Larry and Lainy Vinikow
Given a choice of where or to whom to leave money during our life or after our death, Jewish Family Service of San Diego was the winning contender. Because ours is a second marriage, we have separate funds and our backgrounds are different, leading to differing priorities. However, on making donations to JFS, we are in complete agreement.
Larry says: My gift to JFS is to help Jewish seniors who may be struggling to meet their daily expenses. It's important to me because I know that the funds will make a difference in their lives. I believe that tzedakah is a basic tenet in the Jewish way of life.
Lainy says: My great-grandfather was the rabbi of a small town in the Ukraine. Judaism was important to my grandmother and she passed that on to her children and grandchildren. Until I was eight years old, we lived in a triplex above my grandparents' wholesale grocery store – my family at one end, grandparents at the other. I would visit as my grandma made challah for Shabbat, hear her bless the candles, see my grandfather touch the floor with his forehead for high holy day prayers.
I had 22 cousins in St. Louis and most Sundays we would gather at grandma and grandpa's house. Judaism was a big part of my life. Attending Camp SWIG reinforced my love of Judaism. It was understood that I would marry a Jewish man and be involved in the Jewish community. So, leaving funds to a Jewish charity was an obvious choice to make a difference in the lives of those in need.

Andrew and Erna Viterbi
With our experience as children escaping virulent European Anti-Semitism and as uprooted young refugees brought to America, in the ensuing half a century we have fulfilled the immigrant's dream of acceptance, achievement and the establishment of roots by creating a multi-generational
close-knit family.
To honor the memory of our parents who brought us to safety, freedom and opportunity, to further our support for the continuation and strengthening of Jewish life in this land, in Israel and throughout the world, and especially to set an example for our future generations, we endow our continuing philanthropic commitment.

Morton Vogelson
As a child growing up in Brooklyn, I received a Jewish education and was taught the mitzvah of "tzedakah." I remember placing a few cents in a tin box (pushka) that hung on the wall. The continuation of Judaism rests with future generations. Jewish children growing up in our community should all have a religious education and be aware of their heritage.
For many years I taught religion at a residential treatment center for emotionally disturbed children at the Edenwold Center in Pleasantville, New York. Although I was a teacher and administrator in the New York City Schools, I received the most gratification teaching Judaism to these children; many could not afford this education.
It is my hope that all Jewish children in the San Diego community will grow up as delighted and grateful to be a Jew as I am. To me charity and community are closely linked. If we don't help each other, who will? The giving of charity is greater than all offerings.

Buddy and Diane Voit
So much of our family life is focused around Congregation Beth Israel that we feel as though it is our second home. Being part of this vibrant and welcoming community has enriched our lives. It is important to us that future generations have the same opportunity to experience Judaism as we have. Through our legacy commitment we are helping to ensure that Congregation Beth Israel will continue to be a place where families come together to pray, learn, celebrate, and find comfort as a community.

Steve and Gerry Voit
Judaism has been a gift to us and we have always felt that it is the synagogue that makes Judaism live and endure. It is the place where we come to pray and learn and do and where we come to know our traditions and the wonderful values inherent in Judaism.
What greater blessing, then, to know that our children join us in an effort to make this a legacy for our children and grandchildren.

Sylvia Wechter
The Jewish community has always been an integral part of the life I shared with my late husband, Aaron. This is why I feel blessed to have the opportunity to honor his memory with a legacy gift to the Jewish Community Foundation. Aaron was raised in El Paso by refugee parents who had immigrated from Vinnytsya, Ukraine in 1914, and had faced financial struggles throughout their lives. Aaron needed to work and fund his education, ultimately developing his own business in El Paso.
My father came from Zelinovov, Russia and immigrated to Oklahoma City. My mother was born in Chickasha, Oklahoma. After moving from Oklahoma to attend college at UCLA, I met Aaron. We quickly became engaged, settled in El Paso and started our family. We shared 54 years of married life, raising 3 children, all of whom have active Jewish lives. Dana is in Los Angeles with her three children, Randy is in El Paso with his wife where they raised two children, and Kevin is in San Diego with his wife where they are raising two children. We began coming to San Diego 35 years ago and made it our second home.
It is in this vibrant Jewish community where we shared many meaningful memories and developed friendships. Throughout Aaron's personal and professional life, he was driven by the Jewish values of hard work, tzedakah and community. I am proud these values will be passed on through this contribution to the Jewish Community Foundation.

John and Cathy Weil
"From generation to generation"…Each of our families, though immigrants from different European communities and in different eras, benefited from a strong sense of Jewish community. Each passed on a compelling sense of pride in the American Jewish tradition to subsequent generations. Both the Bornstein/Schwabacher/Weil's and the Yaffe/Magid's felt an emotional attachment to their Jewish roots and participated in numerous Jewish organizations and "causes." They passed on the recognition and remembrance of what great value there is in preserving the Jewish legacy and collective spirit in the Diaspora. We recognize and were touched by that transcendent commitment to our enduring family and community identity when our daughter Jamie Babin chose Judaic Studies as one of her college majors. Her intent was to share a communal experience of "living Judaism" on campus and to be a well-educated Jewish mother for her children.
It is a blessing now for our family to join together to honor their challenges and recognize their struggles to preserve Jewish heritage and community spirit, often in difficult times. We treasure their memory and achievements and looking back with awe, reflecting on where we have been, and looking forward to what we can become.
Betty and Simcha Weiser
"A tree of life for all who cling to it." So does King Solomon describe our Torah.
The larger the tree, the more sweet and ripened its fruits, the more shade area it creates, the more easily and readily will our children and grandchildren gather around, to eat the fruit, enjoy the shade, and climb upward to find a secure perch within its branches.
When my wife Betty and I moved to San Diego in 1981, we came with our two young boys (ages 2 ½ and 3 months) and applied ourselves to develop Torah education in San Diego, so that this 'tree of life' would deepen its roots (permanence) and broaden its appeal (widening the circle of Jewish continuity). We remain determined to continue this work so that the beauty of Torah wisdom should be as apparent to all as is the natural beauty of this beautiful city in which we have made our home and raised our family.
We are thankful to be able to leave a legacy to the Soille San Diego Hebrew Day School so that the Tree of Life will be carefully nurtured, until the time arrives when our Jewish community joins all others and returns to Israel.


Karen Joy Shaw and Gerry Weitz
One of the stories about my grandparents was how, despite being poor themselves, they often helped children on the block from even poorer families and provided soup to those in need. Tzedakah was important and loose change was always finding its way into my father's little pushka.
As an adolescent, I was passionately interested in moving to Israel. We "poo pooed" those who gave money instead of giving their minds and bodies over to Zionism. Now, I am one of those people giving money. It's quite simple - when you are young and have time, labor is more valuable. However, as we age, we can still contribute meaningfully to causes to change lives for the better. Giving to organizations and causes close to your heart is one of the ways a person can leave this world with a peaceful heart. For my wife and I, that means creating a legacy to "pay it forward" to organizations that profoundly impacted our lives. For me, that means contributing to major Zionist causes, such as Birthright Israel, which helps Israel, but also profoundly impacts young adults outside Israel, such as my sons, who had deep and lasting impressions from their Birthright trips.
It is also important for us to support Jews locally, because it is so easy to get lost in the mainstream culture. For us, this means contributing to our wonderful synagogue Ner Tamid, an excellent example of a congregation that has found a way to be open minded without compromising Jewish values, thoughts and traditions.
My wife and I would agree that women in our society need encouragement to pursue their goals, both personal and professional. My wife, being an executive scientist, rightfully believes that she must pass the torch to the younger generation of women in science. We are jointly committed to funding scholarships for women in science and supporting organizations that encourage girls to enter STEM-related fields.

Steven and Ava Weitzen
Our synagogue has been very important to our family. We joined the shul when it was five years old. Our son, Aaron, was bar mitzvahed at the shul and our daughter, Shana, was bat mitzvahed at the shul.
The Rabbi has taught us and inspired us to raise our level of practice and observance. The Adat community has been so supportive of us over the years. The shul plays an integral role in our lives and the community's life.
We want to make sure that this great institution is around for many generations to provide the kind of services and programs that have so enriched our lives. It is a privilege and honor to support Adat with a legacy gift that will enhance the lives of others.

Sydney and Cynthia Wexler
It is our hope that the chain of Jewish tradition will never be broken. We are grateful for having experienced this life together, for the blessings of family, and for the enrichment of life that Judaism has afforded us.

Don and Marcia Wolochow
Shortly after moving to San Diego in 1970 we began our now forty-five-year membership at Congregation Beth Israel, where our daughters Lori, Judith and Dara became B'Nai Mitzvot and continued on to confirmation. Now we have had the joy of seeing their children become B'nai Mitzvot as well!
Our connections to the Jewish Community began even earlier. Marcia was the Youth Representative when the JCC in Southern New Jersey was being built, and Don was active in The Hillel Foundation at Queen's University while attending medical school there in the 1950s. Growing up in Ottawa, Canada, Don remembers his parents' deep involvement in Hadassah and The Technion. Marcia, from Camden, NJ, was introduced to Hadassah by her mother, and she is a lifetime member of both Hadassah and ORT.
Marcia joined the staff of the Lawrence Family Jewish Community Center, Jacobs Family Campus at its inception in 1982, beginning as Founding Membership Director and later Assistant Executive Director, helping create a JCC that is serving the social, cultural, physical and Jewish program needs for all ages in the San Diego Community.
After retirement we both served in various capacities as JCC volunteers, as well as helping support the various cultural programs such as the Film Festival and Book Fair.
We feel blessed to be part of and contributors to a growing and thriving Jewish Community.

Bertie and Jackie Woolf
Our family began our life in San Diego 25 years ago. We are truly grateful to our community for the kindness extended to us. We immediately took on leadership roles in the community, spearheaded multiple fundraising events within the Jewish Community.
We are very proud that our children are fully committed to follow our family tradition of Tzedakah, of observing the Torah's formulae.
Among our passions, we are committed to improving the lives of women and children at risk in Israel and enabling a better life for Jewish families in need throughout the world.
In addition we are committed to supporting the integration of the Haredi Communities into the Israel Defense Force.
In San Diego, one of our highlights is the success of the singles programs of speed dating and other exciting events to connect Jewish Singles.

Brian and Celena Zimmerman
It is with great honor that we are able to have our signatures in the Book of Life. When we moved to San Diego seven years ago, we knew we wanted to give our children a Jewish education. We currently have three children in the Soille Hebrew Day School, and it brings us much nachas to see our children growing into such amazing young people. It is our hope that our legacy will help make it possible for our grandchildren and great- grandchildren to attend the Hebrew Day school and continue the traditions that our children are learning and living today.