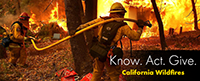 California Wildfires
This has been a devastating time here in California. We are seeing the deadliest and most destructive wildfires in the state's history. More than 60 people have now lost their lives — and authorities fear that assitional bodies will be found. An unprecedented 300,000 people have been evacuated from their homes statewide, as 9,000 plus brave firefighters battle fires across the state.
The relief efforts are tremendous and will be ongoing for quite some time. We at the Jewish Community Foundation want to share these organizations that are providing relief and support in the affected areas.
Here's How You Can Help:
The Jewish Federation of the Sacramento Region is located about 90 miles south of the Butte County Camp Fire. They are collecting material goods for the victims and are also asking for donations to help recovery efforts. As of today, 66 individuals have lost their lives and the homes of 6,500 families have burned to the ground making this the most destructive fire in California history.
The Jewish Federation of Greater Los Angeles has opened an LA Wildfire Relief Fund – 100% of all funds raised will go to individuals and institutions affected by the fires. The Los Angeles wildfires have been burning for days and thousands of individuals and families have been evacuated and displaced, and a number of Jewish institutions have been destroyed or damaged, including 3 well known Jewish camps in the Malibu hills.
The Humane Society of Ventura County is accepting animals evacuating from the Hill and Woolsey fires. You can donate directly to the organization or purchase items, like food and toys through their Amazon wish list, here: www.hsvc.org/donate.
To recommend a grant to these or any other organizations from your Jewish Community Foundation Donor Advised Fund, please log in to JCFConnect or email Lizette Safa.