San Diego Jewish Community COVID-19 Emergency Fund

Or click on the link below to contribute to this Fund using your:
JCF Donor Advised Fund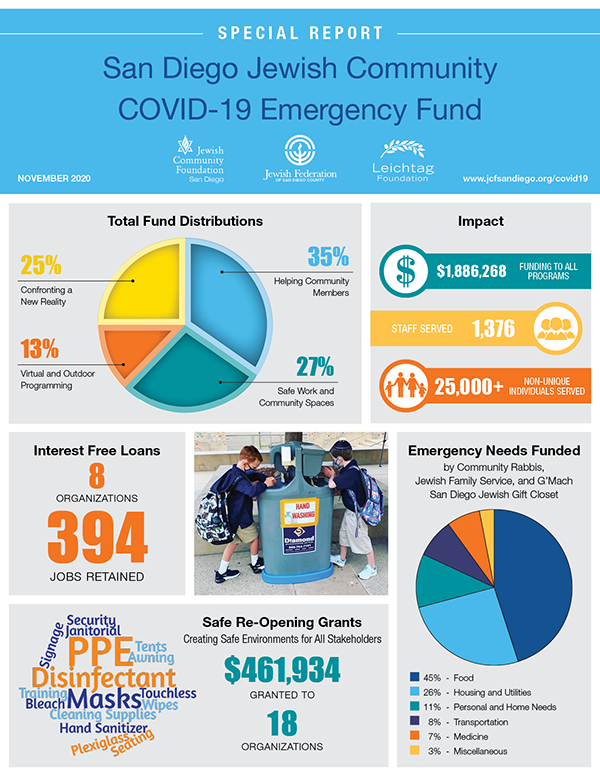 Click on the image for the
current fund report.
Click on the images above for the previous fund reports.
The Covid-19 Crisis and the San Diego Jewish Community: Six Months In
with Pam Ferris, Michael Hopkins, and Betzy Lynch – Plus, an inspirational message for the High Holidays from Rabbi Simcha Weiser
September 10, 2020
San Diego Jewish Community COVID-19 Emergency Fund Impact Story
with Betzy Lynch of the Lawrence Family Jewish Community Center
September 2020


The Jewish Federation of San Diego County, Jewish Community Foundation of San Diego and Leichtag Foundation have partnered to establish the San Diego Jewish Community COVID-19 Emergency Fund. The accelerating scale of COVID-19 calls for a coordinated, streamlined response to support those who are most vulnerable and impacted in San Diego's Jewish community. These critical situations demand that we come together as a Jewish community to care for the most vulnerable among us.
Or click on the link below to contribute to this Fund using your:
JCF Donor Advised Fund
Thank you for making an impact on lives when it is needed the most.
San Diego Jewish Community COVID-19 Emergency Fund Update
with Beth Sirull, Darren Schwartz, Charlene Seidle, and Sharleen Wollach
April 6, 2020