FRA>ISR Mission 2016
Jewish Life in France and Israel
Claudia Ehrlich


Director of Philanthropy
I recently returned from an outstanding mission to Paris and Israel. I was invited by the Jewish Federation of San Diego as a Jewish Community Foundation partner. I was last in Israel in 1984, lived/worked/studied in Paris in 1987 and was last there in 2001 shortly before 9/11. This powerful trip was a chance to rediscover France through the lens of the French-Jewish community and rediscover Israel after 30 years. We arrived under the veil of heightened anti-Semitism in Europe, new waves of aliyah to Israel and an alarming rise in global malaise. The backdrop of our trip was the recent spate of terror attacks in Paris, Tel Aviv, and sadly the day after we left Paris, the massacre in Nice, France. The tremendous work of our overseas partner agencies, the American Jewish Joint Distribution Committee (JDC) and The Jewish Agency for Israel (JAFI), was underscored given the events that unfolded on the world stage in real time. Every step of the way, we were reminded that we are one global family and we need to take care of each other and specifically the Jewish community. It is clear that the impact of your funding dollars overseas and in Israel is real, dynamic, transformative, responsive and stewarded by exceptional professionals.
Through JCF, I stand as a passionate ambassador for the quiet work I witnessed that is strengthening our collective and saving our far flung family members. I am so very proud of what we can accomplish together through strategic philanthropy and I would like to share some highlights.
France
In Paris, we remembered Elie Wiesel, his affection for France and his recent death. Using his words and legacy as a guide – 71 years after WWII – we learned about the vibrant French-Jewish community that has come under massive anti-Semitic attacks in the past 4 years. Resiliency is a word that defines our peoplehood and the Jews of France are no exception.
The history of the French-Jewish community dates back 2,000 years. There are roughly 500,000 Jews living in France. Most are of Sephardic origin and have a first-degree relative living in Israel. We learn that France is not an anti-Semitic country although there are people in France who are virulent anti-Semites.
Jewish life in France is best characterized as complex, proud, with a deep love of Judaism and of its multifaceted country. French Jewry have a deep culture of passionate Zionism. This unwavering connection to Israel, combined with a stagnant economy and increased anti-Semitism has led to a massive wave of aliyah. In 2015, 43% of French Jews reported they thought about making aliyah and, in fact, 8,000 did. JAFI has responded by providing increased aliyah-related services for the French-Jewish community – from pre-aliyah services, to absorption programs specifically for French speakers to become contributing members of Israeli society.
For those French Jews who decide to stay, they are assisted in strengthening their resolve and communities through outstanding resiliency programs, trauma therapy and adaptive leadership efforts on the ground. JDC, in partnership with France's OSE (Organization to Save the Children) and the Israel Trauma Coalition (ITC) has established a Psycho-Trauma and Resilience Unit for French Jewry. JDC also works on security preparedness, promoting interfaith coexistence and economic sufficiency training for times of emergency. JAFI's Emergency Assistance Fund has allocated more than $2M over the past two years to help French Jewish institutions increase their security.
The French community was sent reeling especially after the January 2015 attack on Charlie Hedbo followed two days later by the killings and siege at the Hyper Cacher kosher market. Since that time, the French government has deployed three armed military guards at each of Paris' 750 Jewish organizations – from synagogues to schools to businesses. This is a jarring new reality for a people not accustomed to vigilance.
These photos are from the deeply moving memorial service we held in front of the Hyper Cacher market. Police, armed guards and security blocked a busy intersection as we piled out of our buses. We were each given a Jerusalem stone on which was written the Hebrew word, 'chai', meaning life. One by one, we placed our stones to remember the 4 deceased and 15 additional hostages who were shopping at the Hyper Cacher on the eve of Shabbat on Friday, January 9, 2015.
We are one global Jewish family.
We spent time with young Jewish professionals learning what it is like to be Jewish in Europe, and specifically, in France today. Some are fearful, yet they personify the kind of resilience, perseverance and entrepreneurial spirit that this region will rely upon for Jewish continuity. They are truly unstoppable. Thanks to JDC, JAFI, Moishe House and the Union of French Students, this next generation has a safety net enabling them to live Jewishly and have a community of their own that truly spans across geographic borders as this is a very fluid, global and connected demographic. The rising tide of anti-Semitism in Europe has left many predicting mounting emigration of the region's Jews. The reality is that the vast majority of Jews are staying. As such, there is a need to help the Jewish communities of Europe become more resilient – not only in the sense of defense and protection but also in expanding meaning, vitality, and growth. One such effort is Junction, a joint initiative of JDC and the Schusterman Foundation that connects young Jewish adults across Europe and helps them engage in pan-European Jewry.
We visited Sarcelles, a unique community outside of Paris, where Jews and Muslims have lived side by side harmoniously for decades.
Fifty years ago, this community was established as new housing for waves of new immigrants. Today, 60,000 residents live in Sarcelles which includes 15,000 who are Jewish (living in 1 square kilometer) and 15,000 who are Muslim. Until recently, they have lived in peace but the issue now is new residents moving in without the context or history of harmony.
In 2014, intense rioting during Operation Protective Edge rattled this community to its core. Anti-semitic threats are now real, trauma is prevalent and the community has security at all its Jewish institutions – including its 26 synagogues. Unfortunately, socioeconomic factors in Sarcelles make it extremely challenging for residents to make aliyah. The Chief Rabbi of Sarcelles is committed to encouraging dialogues and connections and was clear in stating that when he stops talking, it will be the beginning of 'war' in this fragile city. JAFI is hard at work here to help provide: 1) Judaic education, 2) security, 3) exposure to programs and experiences in Israel and 4) overall assistance with aliyah.
For more information or details on funding opportunities, please contact me at claudia@jcfsandiego.org or 858-279-2740.
Israel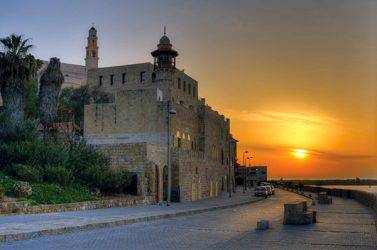 We participated in a poignant goodbye ceremony for 100 French families making aliyah to Israel. These olim were primarily young families ready to embrace a bright new future. We each had the honor of presenting plane tickets and passports to a family making aliyah a week later.
After we presented our olim with their documents, we all participated in a joyous farewell ceremony of singing and dancing to celebrate and wish them bright new futures in Israel. JAFI brings Jews to Israel, Israel to Jewish communities in the diaspora, helps vulnerable Israelis and enables Jews to make aliyah. We left Paris for Israel with a French family of six making aliyah with JAFI's help. Once in Israel, we had the privilege of meeting young intelligence officers from 8200, the elite unit of the Israel Defense Forces (IDF) and also had an extraordinary briefing on challenges facing Israel, from the famed Israeli journalist, Alon Ben-David.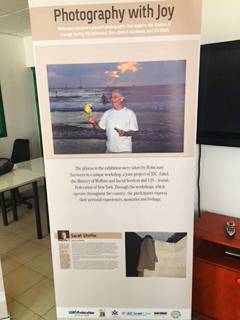 From there, we divided up into vans to tour programs supported by Federation's overseas partners. My group visited three exceptional programs; two funded by the JDC and the third by JAFI. The first, Photography With Joy, is a program that teaches Holocaust survivors photography to help them tell their stories and heal through arts expression. It is a joint program of JDC-Eshel, the Israel Ministry of Social Affairs and Social Services and UJA-Federation of New York. Established in 1969, JDC-Eshel is the premier force for innovation in elderly care in Israel, developing transformative services
that profoundly enhance seniors' independence and quality of life.
We had the privilege of sitting with Clara Herskovitz, 86, a Holocaust survivor who shared her poignant survival story after having been separated from her family at age 11. The complete award-winning photo exhibit is the product of unique workshops held across Israel, through which survivors can express their personal stories, memories, and feelings.
We then visited Ramla, a mixed community building project that is a socioeconomic periphery city and melting pot outside of Tel Aviv. We met with administrators of the KShatot Youth Center and learned about the programs for individuals ages 18-35. Ramla has 80,000 residents; 20,000 are young adults and all at some point use services at KShatot. This is the first, and largest youth center in the country (there are 10) and it boasts groundbreaking service work for Jewish and Arab youth working side by side. This is just one example of the humanity of these cross cultural efforts. Regardless of faith, Ramla's youth are in programs together and its residents understand they have more to gain than lose. The JDC is a key
funding partner.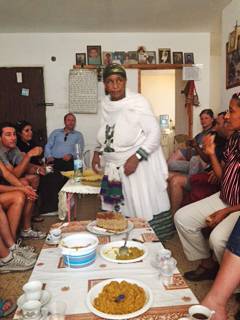 We visited Gedera, a predominantly Ethiopian area, to learn about The Jewish Agency's Ketsev Beit Amboss program whose goal is to reduce poverty through entrepreneurship. We met Yuvi, an Ethiopian-Jewish woman entrepreneur who facilitated our visit to an Ethiopian home. There we were treated to traditional Ethiopian coffee and food as part of the Friends by Nature hospitality program.
The next morning, we woke up to the horrific news of the terror attack in Nice, France. Already planned for this day, we headed with heavy hearts to a memorial service at Tel Aviv's Sarona Market.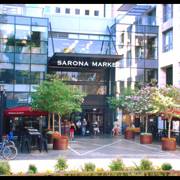 Located across the street from IDF military headquarters, this is the site of the June 2016 terror attack where four were murdered and sixteen wounded. We laid wreaths for the victims and remembered those killed in the Nice massacre the previous night. Notable as a point of reference to San Diegans, Sarona Market resembles closely our very own Liberty Station – an upscale mixed-use food and retail center. Once again, in less than a week, we are mourning the loss of Jewish life. Yet again, we are reminded that we are one global family.
In addition to other wonderful visits and an opportunity to learn about the important work of such organizations as the Shalom Hartman Institute, those of us from San Diego took a day trip to visit our sister city, Sha'ar HaNegev.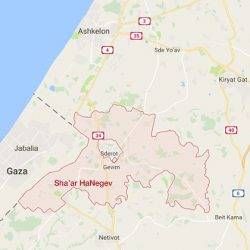 This remarkably vibrant, innovative and resilient region of 7,000 residents sits just 2 km from the Gaza border under constant threat from rocket fire and tunnel attacks. The community deals with post-trauma stemming most recently from bearing the brunt of the violence from 2014's Operation Protective Edge. We were moved by this beautiful oasis of family, community, culture and resolve living in the face of constant danger – a mere 2-3 seconds of alert away from rocket attacks. This community forges ahead through grit, success and the joyous celebration of life events. We visited the brave community of Kibbutz Nahal Oz, the state-of-the-art Sha'ar HaNegev Educational Village, the inspiring Yachdav Senior Center and also learned about the visionary new SouthUp incubator that looks to jumpstart innovation and an entrepreneurial culture in this extraordinary region. Our San Diego community of donors is well-represented here and the connection between our worlds feels seamless, alive and critically important. Family.
After years of hearing about overseas and Israel funding needs, I now 'get it'. This trip was a game changer for me professionally and personally. As far as my own philanthropy, I was touched deeply by the well-conceived, sustainable and innovative programs and services which I will now support. Resiliency and humanity are two words that come to mind when I reflect upon all I have learned and experienced.
---
For more information or details on funding opportunities, please contact me at claudia@jcfsandiego.org or 858-279-2740.